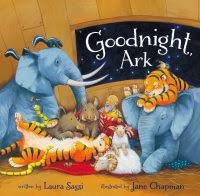 By Laura Sassi, illustrated by Jane Chapman Published by Zondervan
Beds are ready.
Food is stored.
Noah hollers,
"All aboard!"
It's bedtime on Noah's ark, but the animals
can't sleep because of the storm.
Two by two, they crowd into Noah's bed, creating a sticky situation.
Will Noah ever get them back to their own beds?
Climb aboard the ark for this rollicking, yet ultimately restful bedtime story as Noah finds a way to make things calm and cozy, even in the midst of a storm.
Review:
What an adorable story! Little ones will absolutely love to have Goodnight Ark read to them over and over. Seeing the poor frightened animals climb into bed with Noah because they are scared of a storm, just as many little children are was interesting to my little ones. They loved seeing that even animals can be frightened of things that scare them too.
Children of all ages can relate to being frightened, especially during a storm so this story is one that will engage the interest of both little ones and parents as well. This is a fun story of the animals on the ark getting into bed with their grownup during the storm for comfort. My kids loved the rhyming words and all of the wonderful, colorful and adorable illustrations.
The story is written in rhyme and is easy and fun to read over and over. It is not a Bible Story and but a fun fiction story with Noah and animals as the main characters. Even adults will enjoy reading this adorable story.

Disclosure: I received free the item(s) mentioned in this post in exchange for my honest review through Booklook Bloggers program. Regardless ~ All my reviews are my honest and personal opinion.
I am disclosing this in accordance with the Federal Trade Commission's 16 CFR, Part 255: "Guides Concerning the Use of Endorsements and Testimonials in Advertising.".