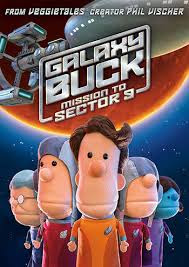 Buck Denver has a simple dream - to save the galaxy. Working for the Galactic Mission Board, Buck dreams of carrying God's love to every corner of the Milky Way! Except he doesn't have a starship. Or a crew. Or even a captain's license. He just needs a chance. But when that chance comes and Buck finds himself leading a real mission into deep space, things don't go at ALL like he imagined! If he's doing what God wants him to do, why is everything going wrong? From VeggieTales® and What's in the Bible? creator Phil Vischer, Galaxy Buck: Mission to Sector 9 is a wild, galactic adventure that teaches kids a powerful lesson about trusting God with everything - even our dreams!
Run time: Approximately 40 minutes
Galaxy Buck: Mission to Sector 9 is a must-see for all ages, from VeggieTales creator PHIL VISCHER! Kids will enjoy Buck Denver's latest adventure with his friends from What's In the Bible? and parents will appreciate the humorous nods to Star Wars and Star Trek. More importantly, Phil Vischer's gifted teaching delivers a clear message to kids and adults about God's love and purpose for our lives. Galaxy Buck communicates important Biblical truths that will add to everyone's faith foundation, whether a life-long Christian or a new creation in Christ.
Review :
Galaxy Buck: Mission to Sector 9 is a special DVD video for kids that teaches a powerful lesson about trusting God with everything. Buck Denver and his crew are not the typical VeggieTales animated characters I have come to love from Phil Vischer and the VeggieTales creators but instead are puppet like characters. I must say that I personally love the VT style animation and was not as thrilled with the puppet characters in this particular video.
My girls did seem to like the movie and the lesson it tells, but they also said they missed Bob the Tomato and would have preferred either Bob and Larry type characters or even 3-2-1 Penguins. Overall it is a great story of Faith and Trust and many children will enjoy watching, it just would have been better in my personal opinion with the typical VT style animation my family has grown to love.
To Learn more about Galaxy Buck: Mission to Sector 9 Check out these social media sites:

Disclosure: I received free the item(s) mentioned in this post in exchange for my honest review. Regardless ~ All my reviews are my honest and personal opinion.
I am disclosing this in accordance with the Federal Trade Commission's 16 CFR, Part 255: "Guides Concerning the Use of Endorsements and Testimonials in Advertising.".