Have you e
ver wished there was something that can take the hard work out of chopping vegetables and fruits?
Or ever wondered how to NOT get watery eyes while cutting onions?
If so, the Brieftons Food Chopper is your answer!
This versatile tool makes quick work out of tough cutting/chopping tasks
, and it's so easy to assemble, use and care for.
And if you
hate getting watery eyes when chopping onions
, this will solve it all for you. With the lid on top and onions inside the bowl,
you can effortlessly chop away without them making your eyes water.
This hand food chopper is the quick and easy way to chop fruits, vegetables, nuts, and herbs or create fresh salsas, pestos, coleslaws, salads in just seconds
.
It can be used equally well as a vegetable chopper, salad chopper, onion chopper, garlic chopper, herb chopper or as a general-purpose manual food chopper.
BENEFITS
✓ Powerful & Versatile: Perfect for slicing vegetable salads, chopping nuts, herbs, veggies, pesto, hummus, salsa, guacamole, boneless meat, and more.
✓ Compact & Safe to Use: 3 cup regular or 4 cup large capacity. Great for small kitchens, RVs, travel and camping. Made from BPA-free plastic.
✓ Easy to Clean: Blades, bowl and storage lid are top-rack dishwasher safe. Components come apart for easy cleaning.
✓ Convenient: Makes food preperation fun and easy. Just pull the cord a few times to to chop/mince/blend your ingredients.
✓ Designed for a Perfect Chopping Job: Features sharp stainless steel blades for fast chopping, comfort soft grip lid, anti-skid base, easy pull cord, large handle for easy leverage.
With so much to do during the day, cooking needs to be done fast. The Brieftons Food Chopper is a versatile and indispensable kitchen tool that makes cooking quicker, easier, and more fun.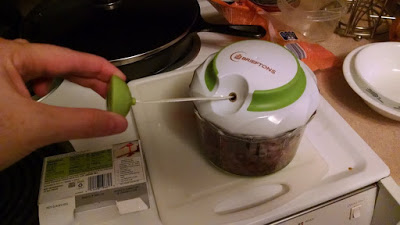 Review:
When you don't have time to grab that big bulky electric chopper or no room on the counter top to add more large items, I love grabbing my Briefton Choppers out to use. They are quick, efficient and easy to use and easy to clean.
I love using it for quick veggie chopping for fresh salsa, raw carrots or potatoes for adding to meals or just chopping onions without burning tearful eyes. The dual blades are sharp but contained within so no risk of cut fingers. It is easy enough for a child to use and would be great for someone who struggles with using a knife as it is safe to use and very easy to clean.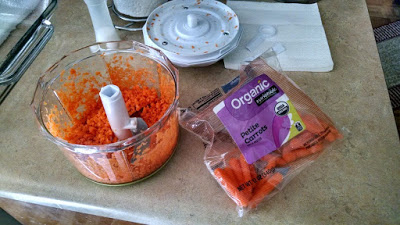 The larger 4 cup size also comes with a mixing paddle so it can be used for more than just chopping as the smaller one does. I love how easy they are to store in the cabinets until time to use so I have all the counter space I need. With limited counter space it is great to have a smaller chopper that doesn't take up a lot of space. I can see the Briefton choppers for singles or couples in apartments, elderly or disabled, or a busy family like mine!
This mommy blogger highly recommends both the 3 cup and 4 cup size Briefton choppers. I hope you also will check them out!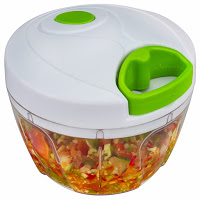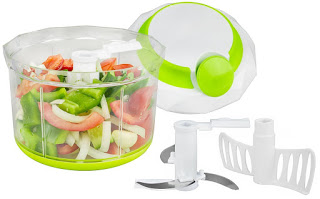 Disclosure: I received free the item(s) mentioned in this post in exchange for my honest review. Regardless ~ All my reviews are my honest and personal opinion.
I am disclosing this in accordance with the Federal Trade Commission's
16 CFR, Part 255: "Guides Concerning the Use of Endorsements and Testimonials in Advertising.".