I am very excited to start off the New Year with a DVD review and giveaway of Mile in His Shoes!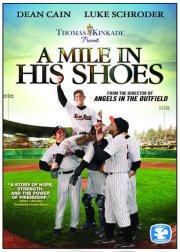 About Mile in His Shoes:
From the director of "Angels In the Outfield" comes an inspiring story about a special boy with an amazing gift, and the coach who believed. Dean Cain and Luke Schroder star in the gmc movie based on the book "The Legend of Mickey Tussler".
My Review:
This movie which stars Dean Cain and premiered on gmc in September is about a young man diagnosed with Asperger's Syndrome (a form of autism) and how he succeeds in life.
The story of Mickey is inspiring, heartwarming and encouraging. I am impressed with the producers and writers for using the subject of a young man with Asperger's syndrome in a challenging situation (baseball). The movie was somewhat predictable, but I still found myself excited to follow along on the adventure. My family and I enjoyed this movie. I really think you will enjoy this family-friendly movie as well!
For more information about "A Mile in His Shoes:"
To enter to win a DVD copy of "A Mile in His Shoes" -
(mandatory entry) leave a comment below telling me why you are interested in this movie.
***giveaway will end at midnight on January 22nd - winner to be announced on the 23rd***


1 extra entry each:
Tweet the giveaway (post link in comments)
Follow this blog (GFC, google+, Twitter, Networked Blogs)
Vote for this blog on Picket Fence