This week, the
Christian Fiction Blog Alliance
is introducing
The Maid of Fairbourne Hall
Bethany House (January 1, 2012)
by
Julie Klassen
ABOUT THE BOOK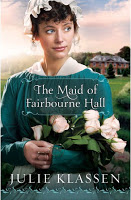 Pampered Margaret Macy flees London in disguise to escape pressure to marry a dishonorable man. With no money and nowhere else to go, she takes a position as a housemaid in the home of Nathaniel Upchurch, a suitor she once rejected in hopes of winning his dashing brother. Praying no one will recognize her, Margaret fumbles through the first real work of her life. If she can last until her next birthday, she will gain an inheritance from a spinster aunt--and sweet independence. But can she remain hidden as a servant even when prying eyes visit Fairbourne Hall?
Observing both brothers as an "invisible" servant, Margaret learns she may have misjudged Nathaniel. Is it too late to rekindle his admiration? And when one of the family is nearly killed, Margaret alone discovers who was responsible. Should she come forward, even at the risk of her reputation and perhaps her life? And can she avoid an obvious trap meant to force her from hiding?
On her journey from wellborn lady to servant to uncertain future, Margaret must learn to look past appearances and find the true meaning of "serve one another in love."
If you would like to read the first chapter of
The Maid of Fairbourne Hall
, go
HERE
My Summary & Review :
Margaret Macy learns of her stepfather's plan to marry her off to his nephew, Marcus to get control of her inheritance. She tells Marcus that she isn't interested in him, but his uncle, her stepfather, tells him to do whatever necessary to get her, including soiling her reputation.
She decides that running away is the best option, and disguises herself as a housemaid. She is unaccustomed to such work, and struggles as she attempts to keep her identity a secret. If she can hold out until her 25th birthday, she will receive her inheritance and can remain independent. Unfortunately she ends up in the house of Nathaniel and Lewis Upchurch, both former suitors.
I enjoyed reading about Margaret and her struggles to remain single and un-soiled. Although I thought her a spoiled rich girl at first, I was impressed with her determination to learn as she attempted to actually work as a maid. The romance was sweet and frustrating at times. This story is different from so many others I've read in its content and characters. Reading about life in the 1800's was both educational and entertaining. A great read for any romance lover.
ABOUT THE AUTHOR: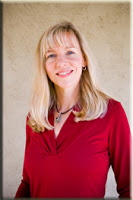 Julie worked in publishing for sixteen years (first in advertising, then as a fiction editor) and now writes full time. Two of her books,
The Girl in the Gatehouse
and
The Silent Governess
won the Christy Award for Historical Romance.
The Girl in the Gatehouse
also won a Midwest Book Award and The
Silent Governess
was a finalist in Romance Writers of America's RITA awards.
She graduated from the University of Illinois and enjoys travel, research, BBC period dramas, long hikes, short naps, and coffee with friends. Julie and her husband have two sons and live near St. Paul, Minnesota.
Julie can be reached through the Contact link on her
Website
*A special thank you to the Christian Fiction Blog Alliance for the free copy of this book for my review, please see my
Policy & Disclosure page
for more info.