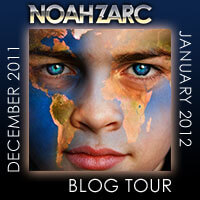 Noah Zarc Mammoth Trouble
OVERVIEW
Noah lives for piloting spaceships through time, dodging killer robots and saving Earth's animals from extinction.
Life couldn't be better.
But the twelve-year-old time traveler learns it could be a whole lot worse. His mom is kidnapped and taken to Mars; his dad is stranded in the Ice Age; and Noah is attacked at every turn by a foe bent on destroying Earth... for the second time.
My Review:
I LOVED IT! Noah Zarc Mammoth Trouble is an excellent middle grade adventure that keeps the reader on the edge of his/her seat. The characters are endearing and the story has such depth and true emotion throughout. The story is full of danger, boyish determination, and fantastic adventure. The reader can join Noah and his family on an exciting journey through time and space to save earth and lives of the ones they love. Some difficult choices must be made, but will Noah make the right choice in time to save his loved ones? Find out for yourself, read Noah Zarc: Mammoth Trouble by D. Robert Pease today.
I really enjoyed reading this book. I'm anxious to read the next book in the Noah Zarc adventures!
Get your copy today by visiting
Amazon.com
(available in paperback or as an eBook) or the online retailer of your choice (more links below).
THE AUTHOR
D. Robert Pease has been interested in creating worlds since childhood. From building in the sandbox behind his house, to drawing fantastical worlds with paper and pencil, there has hardly been a time he hasn't been off on some adventure in his mind, to the dismay of parents and teachers alike. Also, since the moment he could read, books have consumed vast swaths of his life. From
The Mouse and the Motorcycle
, to
The Lord of the Rings
, worlds just beyond reality have called to him like Homer's Sirens. It's not surprising then he chose to write stories of his own. Each filled with worlds just beyond reach, but close enough we can all catch a glimpse of ourselves in the characters.
Discover ways to connect with the author by visiting his site at
www.drobertpease.com