"This article may contain a

book or

product sample and/or links to ot

her

website(s). See my FTC discl

o

sure for more det

ails

."
Welcome to Mom Loves 2 Read Royal Princess Academy

My girls were each sent a beautiful princess dress-up dress from
ThePrincessDress.com
for this review. Each of them chose a few favorites from a large selection available online and were rewarded with two of their very favorites to wear.
Allison is dressed in a beautiful Cinderella gown in a dazzling blue with silver accents. She loves to play pretend and princess with her friends and little sister Lydia.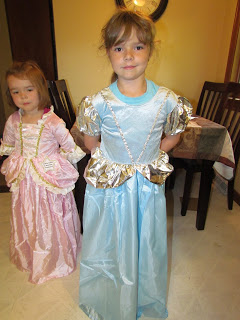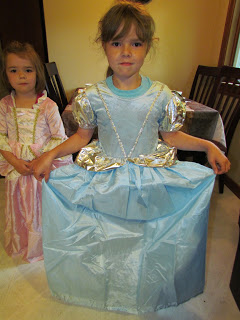 Little Lydia is wearing the Pink Parisian Princess Dress in a shiny pink with white lace and gold accents.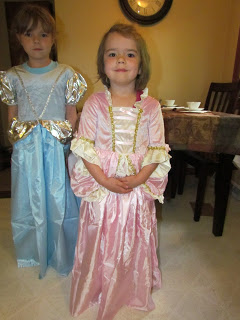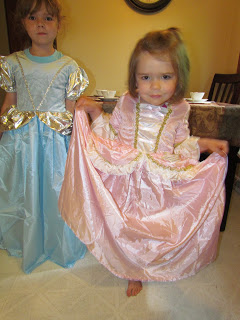 My beautiful Princesses are learning manners and how to curtsy in their adorable dresses. All dressed up in their Royal finery, these two not-so-royal girls are ready for a fun Tea Party with a handsome prince.
Both of these dresses are machine washable, made of durable fabric and well-sewn seems. They are much nicer than any dress-up clothing I've found in my local stores and I forsee will be well-loved for years to come by my girls as well as my nieces.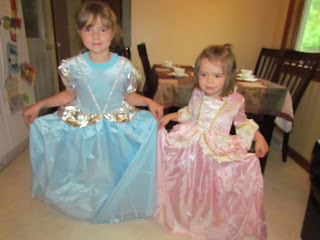 Each Dress comes with a cute card attached with the "name" of the dress and a little story about ThePrincessDress.com included - here is what it says:
"
Once Upon a time . . .
There were two moms, who had princesses who loved to dress up. Their moms searched all the land but the dress ups they found just would not do. many were itchy, uncomfortable, could not be washed, and their price would bankrupt the royal treasury. What were these moms to do? They went to work on a wardrobe that was 'Mom Designed with Kids in Mind' and worthy of all little royalty. They created dress ups that were comfortable, machine washable and affordable to all.
The kingdom rejoiced and
. . . they all lived happily every after."
You can find them on
facebook ~
http://www.facebook.com/pages/ThePrincessDresscom/132874706750533
twitter ~
http://twitter.com/aprincesscloset
Now, doesn't that sound perfect for all of us parents who want quality items for our children without the huge cost? Right now ThePrincessDress.com is having a huge sale and many little girls' favorite princess dresses are on sale for as low as $19.99 and quite a few accessories as well starting at only $2.49!
Take a chance and check them out - In addition to Princess Dress Up clothing and accessories, they also have Formal Dresses, jewelry and more!
Want even more incentive to try them out? How about a chance to WIN a $100 shopping spree?
Enter below for a chance to win $100 to spend at ThePrincessDress.com - Open to US only at this time. Must be 18 or older to win.

I received one or more items for this review from the sponsor mentioned in the post. All my reviews are my honest and personal opinion and are not influenced nor reviewed by the sponsor prior to posting.
If you have any questions or comments, please see my FTC disclosure or Review Policy.