"This article may contain a

book or

product sample and/or links to ot

her

website(s). See my FTC discl

o

sure for more det

ails

."

www.FairyWonderful.com
FairyWonderful.com is a website/online store where you can purchase handcrafted tutus, flower girl tutu dresses, birthday tutu outfits, and so much more! They have many tutu and tutu dress designs that are perfectly suited for a little girl's first birthday tutu or dress, as well as Christmas tutu or tutu dress and they even have wedding flower girl tutu dresses.
My Review
:
This outfit is SO cute! I wish my girls could wear it! An adorable white onsie with "Angel" on the front, and a well-made tulle skirt with ribbon all over. I love the rainbow of colors and how well made the skirt is. I can't wait to see it on my niece!
FairyWonderful has a huge selection of playful, everyday, party and wedding style tutu dresses and so much more! Adorable outfits for the little angels in your life - check it out - they are SO cute!
My neice Aleah tried out the set that I received for this review. Here is what her mommy had to say about it:
My SIL's review
:
Ok. Seriously that is the cutest tulle skirt i have seen. Its really full and screaming color. I love the finishing touches of the ribbon tied throughout! I'm not a big fan of "angel" but Aleah pulled it off!!!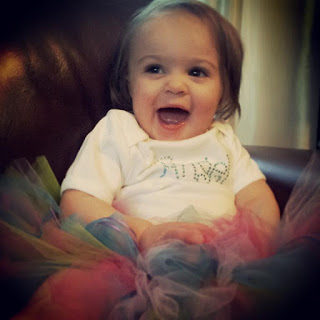 My neice Aleah in her adorable outfit from Fairy Wonderful! Isn't she just the cutest!

I received one or more items for this review from the sponsor mentioned in the post. All my reviews are my honest and personal opinion and are not influenced nor reviewed by the sponsor prior to posting.
If you have any questions or comments, please see my FTC disclosure or Review Policy.