Hero's Sword Vol. 2
by M.E. Sutton
Genre: fantasy -middle grade
Publisher: Delabarre Publishing
Date of Publication: April 24, 2013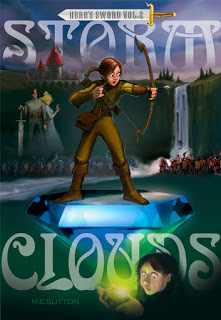 Eighth-grader Jaycee Hiller is beginning to fear she only imagined her trip to Mallory. But when a rainy afternoon leaves her with hours of playing Hero's Sword, her favorite video game, she finds herself drawn back into the game – literally.
STORM CLOUDS is the exciting second volume of the HERO'S SWORD saga – chronicling Jaycee Hiller's trials in eight grade, and her exciting adventures in Mallory, the setting of her favorite video game. Jaycee enters the video game realm via a special controller and is caught up in the action of this fantasy realm.
In STORM CLOUDS, a valuable jewel belonging to the neighboring estate of Devin, the Sapphire Star, is missing, stolen at the Fall Consortium. Lady Starla stands accused of the theft. Devin's demands are clear: return the Star or they will take it back by force.
Now it's up to Lyla Stormbringer to find the Star and the thief. before Mallory finds itself at war.
My Review:
Storm Clouds
is the second book in the Hero's Sword series by M.E. Sutton. It was a quick and fun read, through a bit predictable at times. It is written well, and is simple and easy to follow for middle grade and even a bit younger kids. It is packed full of action and adventure and was fun to read. I was not sure how much I would enjoy reading a book about a girl who gets sucked into a video game world, but it made this an interesting and unique story. I think many middle grade kids will enjoy reading about a kid their age falling into their favorite video game and living out the fantasy. It is perfect for kids who enjoy using their imaginations to escape the real world at times (and better to read about video games than to spend all day playing them!)
About the Author:
A software technical writer by day, Mary Sutton has been making her living with words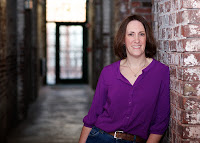 for over a decade. She writes the Hero's Sword middle-grade fantasy series as M.E. Sutton, and The Laurel Highlands Mysteries series as Liz Milliron. She lives in Pittsburgh, PA with her husband and two children.
And now for the FUN - the giveaway! Enter using the form provided for a chance to WIN!

I received one or more items for this review through Bewitching Book Tours. All my reviews are my honest and personal opinion and are not influenced nor reviewed by the sponsor prior to posting.
If you have any questions or comments, please see my FTC disclosure or Review Policy.