"This article may contain a

book or

product sample and/or links to ot

her

website(s). See my FTC discl

o

sure for more det

ails

."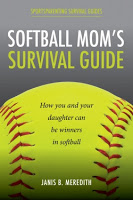 This survival guide is written for a single purpose: to help both you and your daughter be winners in softball. The tips and suggestions, varying from the practical to the emotional--safety, nutrition, sports equipment, team drama, mental toughness, dealing with dad--will help you get the most from your daughter's softball playing experience. And that will help your daughter get the most out of her softball experience. The two are closely tied together.
This ebook is easy and quick to read. It is only about 100 pages long and is filled with great tips for how to not just survive softball season, but how to help you and your daughter be winners.
My Review
:
I liked quite a bit of this ebook. With two girls just starting out playing softball, I haven't yet had any issues with coaches, other teammates or parents, but I know as they get older situations may arise that are mentioned in this ebook. It really does have some great tips for moms (and dads) about how to be a great game parent and not cause embarrassment for your girl(s) or cause problems when things don't go the way you expected. Here are some points from the book that I thought were interesting:
If the game didn't go the way you wanted - whether your team lost or you didn't agree with something the coach said or did, think about this . . .
You will embarrass your daughter.
When you confront the coach on the field after a game and give him or her a piece of your mind, you will have an audience. Word will get around. "Did you see Sarah's mom chewing out the coach? Man, Jenny's mom was really mad that she didn't play; she let the coach have it!" You may feel better about venting, but your child will only feel humiliated.
You need time to get perspective.
Calm down. Vent to your spouse or a friend. If you're like me, you may even suffer through a restless night of sleep. Giving it a day will help you sort through what's important and if this is a battle you really want to take on. And if it is, then you will have time to formulate a calm and rational argument.
Coach needs time to re-think the game.
And believe me, he or she will. Every coach does. I've lived with one for twenty-eight years, and after every game, he processes. "What should I have done? What did I do right? How can I help this team be better?" Allowing the coach time to relive the game may help him or her see why he or she might have angered some parents.
Rants and angry accusations are weak arguments.
Chances are good that if you approach a coach in anger and vent your frustrations, he or she will tune you out. But confronting a coach calmly will be more profitable for your daughter. In that atmosphere, you and the coach can come to a resolution that truly benefits your child. After all, it's all about what's good for your child, isn't it? Not what makes you feel better."
Although I personally haven't experienced any of these problems (yet) I know there are many parents who have. This is an interesting ebook to read and has some valuable tips and information on how to be the best and most supportive team Mom (or Dad) you can be.

I received one or more items for this review for free using Tomoson.com. All my reviews are my honest and personal opinion and are not influenced nor reviewed by the sponsor prior to posting.
If you have any questions or comments, please see my FTC disclosure or Review Policy.