Discover how much fun service can be with Adventures in Odyssey's A.C.T.S. challenge and contest!
Welcome to Month TWO in the Adventures in Odyssey's Summer of Service Challenge This month's theme is Imagine which includes a fun giveaway of the first three books in the Imagination Station series!
June's Theme: Imagine creative and fun ways to serve using your unique gifts!
Unleashing Imagination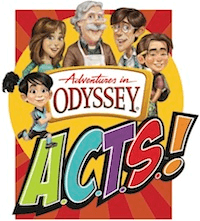 Children are spending more and more time in front of TVs, iPads, computers, and video games. That doesn't leave much room for kids to dream up their own visual images—like the ones that fill their minds when they hear a great story! Rather than passively receiving images, kids actively engage in making images themselves when they hear a good story. Their imaginations are enriched and stimulated, and the material becomes more personal and memorable.
Adventures in Odyssey is all about great stories—and the power of the imagination. The beloved audio dramas are heard on over 700 radio stations, and AIO has recently expanded to books and devotionals—including The Imagination Station series, a fast-growing line of early chapter readers. You can check them out by downloading a
FREE e-book
of Imagination Station #1:
Voyage with the Vikings
!
This summer, Adventures in Odyssey encourages kids to write their OWN stories, as they join in ACTS: A Call to Serve! AIO is helping children use their imaginations to serve their family, community, and world this summer—maybe by sending a care package to a missionary or baking cookies for the local fire department. Check out
www.whitsend.org/acts
for details and a chance to win fabulous prizes, including a mission trip with a parent to Costa Rica!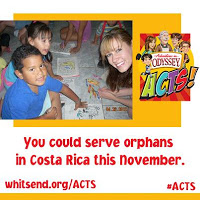 More important than prizes are the stories your child will tell about the creative ways they served others, and how they grew as a result. And what they come up with really might change the world!
A Creative Story of Service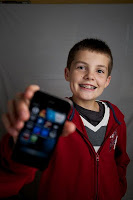 Fourteen-year-old Matthew, a dedicated Adventures in Odyssey fan and natural tech whiz, was inspired by a trip to the Apple store to create a smartphone app for his church. Since then, he has created 21 apps for different ministries, including his local pregnancy resource center, Joni and Friends (an international ministry for people with disabilities), and even an "Adventures in Odyssey Fan News" app! Matthew used his God-given talents and imagination to bless others through technology. Which of your kid's unique gifts are waiting to be unleashed for God's use?
Now for the GIVEAWAY fun - Enter using the form provided for a chance to WIN a set of Imagination Station books #1-3 from Tyndale House Publishers! Must be 18+ and in the US to win.
Climb aboard, kids! Travel back in time and sail with the Vikings, meet a Roman Emperor, come face-to-face with China's Kublai Khan, and experience a host of other historical adventures in the Imagination Station series for young readers. The first three books in the series are:
Voyage with the Vikings, Attack at the Arena,
and
Peril in the Palace.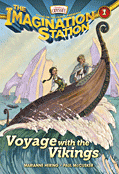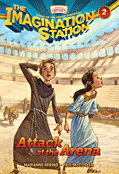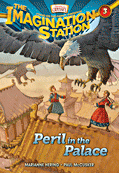 I received one or more books/products in the post above for review purposes only. I was in no way required to write a positive review. All my reviews are my honest and personal opinion
. If you have any questions or comments, please see my FTC disclosure or Review Policy.