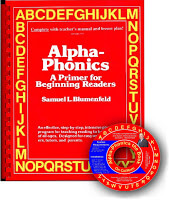 My Review:
I was sent a free
Alpha-Phonics book as well as
The Alpha-Phonics & How To Tutor Little Companion Readers and
The Alpha-Phonics and How To Tutor Phonics Workbook for this review.

Alpha phonics is a program that teaches kids to read using simple techniques that I remember using when I was in grade school. With story booklets that remind me of the "See Spot Run" type stories I read from in Kindergarden when I was a child, it is fun and easy for young kids to learn the techniques and phonics necessary for early reading skills.
I have personally taught my children from early on basic phonics skills. Most parents I know start their children out with letter sounds and learning to sound out short easy words to teach them the basics of reading. Alpha Phonics program is a wonderful addition for any parent, homeschooler or teacher to use to aid in these early learning techniques. I love the booklets that come with the program, the easy teaching instructions and how much fun my daughter and I have when we read together. I love seeing the sparkle in her eyes and smile on her face when she realizes she has just read several words in a book by herself.
Click below to see a brief video explaining why Alpha-Phonics is now so much better than ever before:
http://www.alpha-phonics.com/abcd.htm
For the GIVEAWAY - Open to US only 18+

Mom Loves 2 Read is an affiliate or ambassador for one or more products/websites listed or banners posted throughout this blog. If a personal review is written, I have either received that item free in exchange for my honest review or may have received monetary compensation for the post. Regardless ~ All my reviews are my honest and personal opinion and are not influenced nor reviewed by the sponsor prior to posting.
For more info, see my FTC disclosure or Review Policy.