Teton Sports is a great website that supplies many of the most common needs for campers, hikers, scouts and more. My son Josh has become a Boy Scout (previously a Cub Scout) this past spring and was excited to finally go to Boy Scout Camp last month. The only problem we had was figuring out how he was going to carry all of his stuff for an entire week by himself for nearly a mile over three LARGE hills. We were fortunate to get a second-hand external frame backpack as his main pack and use a regular school backpack as his second one.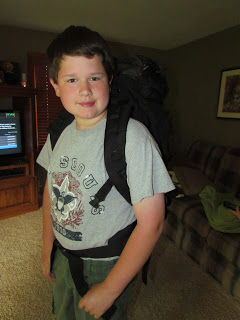 Many of his friends had nice Internal frame backpacks to use. I thought that by next year I would make sure he had one of the internal frame ones as the External frame seemed very heavy and cumbersome for him. Though it did have a lot of room for his supplies and clothes!
To read our Review -
Click HERE
!
NOW FOR THE GIVEAWAY - Teton only ships to the lower 48 US states (no PO boxes) - 18+ only may enter/win! Winner will receive an Internal Frame Backpack like the one in our review from TETON sports! Giveaway will end 7/31 midnight (CST) - winner will be notified via email within 1 week of contest end and will have 48 hours to reply and claim prize.

Mom Loves 2 Read is an affiliate or ambassador for one or more products/websites listed or banners posted throughout this blog. If a personal review is written, I have either received that item free in exchange for my honest review or may have received monetary compensation for the post. Regardless ~ All my reviews are my honest and personal opinion and are not influenced nor reviewed by the sponsor prior to posting.
For more info, see my FTC disclosure or Review Policy.