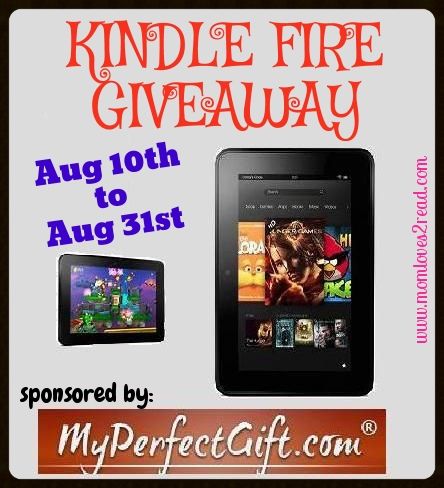 Blogger Sign Ups Are Now Open! CLOSED!
It's time for a huge giveaway!
Join Mom Loves 2 Read for this exciting Kindle FIRE Giveaway event from August 10 - 31, 2013. I have partnered with
MyPerfectGift.com
to provide this great giveaway event.
Other Kindle Fire Giveaways have shown that participating bloggers gained 600 or more new Facebook, Twitter and/or Pinterest followers in the course of a week! I am hoping for a similar or even better turnout for this event. And since this event is to last 3 weeks - imagine all the new followers you could gain!
To make it even MORE FUN for participation bloggers - MyPerfectGift.com is offering a $50 referral prize for one RANDOM blogger who refers others to sign up! Now, who wouldn't mind getting $50 just for telling other bloggers about this event - AND gaining new followers for signing up too!
GIVEAWAY IS OPEN WORLD WIDE
Kindle Fire will be shipped to US winner only - If winner is from outside US, then they will receive $150 PayPal (less paypal fees)
How to Sign Up
Please read these simple guidelines below and then use the form (link at the bottom of this post) to sign up.
Before

submitting the sign-up form below, you must:
Publish an announcement post on your blog about blogger sign ups for this event and make sure to include the event button, dates AND a link to this post (please write your OWN post and do not just copy this one)

Of course both options are appreciated! The more bloggers that sign up for this event, the more it will benefit you and everyone else participating. If you choose NOT to post a button or blog post - please pay a small $5 fee to join this giveaway event without promoting the sign ups.
Sign ups are FREE for first link (Twitter only)
Additional links may be purchased for :
$2 each for Facebook, Pinterest, Bloglovin, RSS, email/newsletter, Networked Blogs, or Instagram
$5 for daily comment on your blog, or daily votes


(fees paid will be used for future giveaway events and referral prizes)
Boost Your Alexa, GPR and daily visits by hosting a page or becoming a cohost!
*Host Pages are available for $10 each ( only 2 left ) - first come first serve - lol
**
Co-Host
spots (
Only 1 left!
) are $25 each and include 3 free social media links (twitter + 2 of choice), backlinks on all participating blogs, plus a host page
The post HTML, pictures and GiveawayTools form will be emailed to you several days before the giveaway event begins from me: momloves2read@itv-3.com. All you have to do is copy, paste, and schedule it to post on your blog. Super easy! Make sure it doesn't go to your spam folders! Make sure you can receive emails from me -
Also, please add to the post info or rewrite some of the working in the post HTML for SEO purposes (to make your post unique), but all the basic information and the pictures and links need to remain intact. The sponsor links must remain dofollow for the duration of the giveaway - you may nofollow or delete once the event has ended!
The event will run from August 10 12:01 am through August 31st 11:59pm .

Participating bloggers ARE permitted to enter the giveaway!
Participating bloggers will be asked to promote the giveaway at least 1 time daily on at least 1 social media (facebook, twitter, pinterest) during the course of the event. A few ways to promote are on facebook, facebook groups, giveaway link ups, twitter, google+, linkedIn, pinterest, instagram, and so much more! Since this is a group event, everyone has to do their part for it to work!
Payment information
~ Fees may be paid via Paypal or Amazon.com egiftcodes sent to
MomLoves2Read@itv-3.com
If paying with Paypal - YOU are required to pay
all
paypal fees
yourself otherwise you will not be paying the full fee for this event -if you have existing funds in your paypal account, or a verified bank account - use the "gift" option for no fees (i think). Otherwise you may choose to send Amazon.com egiftcodes and then no extra fees are required.
Ready to participate? Then SIGN UP HERE! sign ups CLOSED