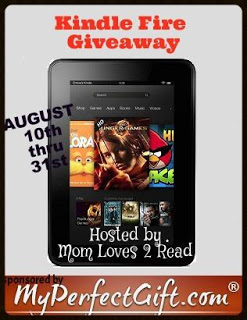 Blogger Sign Ups Are Now Open!
It's time for a huge giveaway!
Join Mom Loves 2 Read for this exciting Kindle FIRE Giveaway event from August 10 - 31, 2013. I have partnered with
MyPerfectGift.com
to provide this great giveaway event.
And YES - It is INTERNATIONAL!! IF the winner is from the US - they will receive a KINDLE FIRE.
If the winner is from ANY other country (where allowed) they will receive instead PAYPAL CASH in approx value of Kindle Fire! SO all my Canadian, European and other wonderful blogger friends - jump in and Join today!
HURRY - only 2 CoHost spots are still open - and only 4 Host Pages are still available! Don't miss your chance to boost your followers, ratings and more with backlinks, page/blog visits and extra social media links!
To make it even MORE FUN for participation bloggers - MyPerfectGift.com is offering a $50 referral prize for the blogger who refers the MOST new sign ups A RANDOM blogger who REFERS other bloggers - yes it could be YOU! Now, who wouldn't mind getting $50 just for telling other bloggers about this event - AND gaining new followers for signing up too!