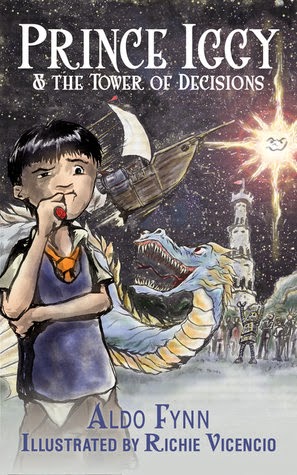 Summary: Kirkus Reviews called the second book in the Adventures of Price Iggy, "a satisfying sequel to a memorable first book featuring an unprepossessing hero who might just become a household name." This quirky and fast paced story with 30+ illustrations is ideal for middle grade readers and adults looking for a different kind of hero. Foreword Clarion wrote "delightful, adventurous story…Fynn uses this volume to
address adolescent anxiety and self-doubt." and IndieReader concluded Prince Iggy and the Tower of Decisions "offers excitement and surprises to keep young readers engaged."
Iggy and his friends set sail for the Rose Kingdom. But Iggy isn't sure if he has what it takes to really be a prince. Well, he's about to find out…
When the Lucky Rose 2 blasts off into space, Iggy meets the Rose Star and literally has an out-of-body experience. And that's just the beginning. His adventures include confronting a hungry shark face-to-face, dancing in a live-or-die talent competition, and battling a blue dragon with very clean teeth.
And when Iggy finally makes it to the Rose Kingdom, Queen Victoria refuses to give up the throne. If Iggy wants to become ruler of the Rose Kingdom, he must enter the Tower of Decisions. Only problem is, very few people make it out alive…
My Review:
I'm afraid I wasn't overly fond of this second book in the Prince Iggy series. There is much mention of death of dying and I just don't think it is the best for younger readers. Although I did find it humorous at times as is in the manner of the author's writing style and continues the story line from the first book
Prince Iggy and the Kingdom of the Naysayer
, I just couldn't quite get into this one as well. Now, being a parent and not a pre-teen or middle grade reader might have something to do with how I view this book of course. I can see middle grade boys enjoying this adventure, but I think it would be best for those 12 and older due to some of the difficult situations mentioned in the story. This story also ends with a cliffhanger keeping the reader coming back for more.
About the Author: Aldo Fynn
Aldo Fynn
enjoys writing wacky, fantastical stories.
Prince Iggy and the Kingdom of Naysayer
is his debut novel. It's the first book in the
Adventures of Prince Iggy
Series. He's also written two wacky, laugh-out-loud picture books. He lives under his desk and promises he won't come out until Book 3 in the series is complete. Which is a shame because his desk is based in Los Angeles, where it's sunny and 70 degrees most of the year.

Disclosure: I received free the item(s) mentioned in this post in exchange for my honest review. Regardless ~ All my reviews are my honest and personal opinion.
I am disclosing this in accordance with the Federal Trade Commission's 16 CFR, Part 255: "Guides Concerning the Use of Endorsements and Testimonials in Advertising.".