This week, the
Christian Fiction Blog Alliance
is introducing
Shenandoah Dreams
OakTara Publishers (July 1, 2014)
by
Lisa Belcastro
ABOUT THE BOOK
What if she met the man of her dreams...in another century?
It s just a dream, Melissa Smith whispers as she stares into the intense eyes of a man dressed in Colonial clothes, as though stepping out of an American Revolution movie set.
A school chaperone with
Holmes Hole Elementary, she'd boarded the old schooner Shenandoah for a week long educational sail. But they are not visiting Plymoth Plantation, the Boston Tea Party Museum, or the Concord Bridge reenactment.
They're sailing the waters around the island of Martha's Vineyard. Yet, when she awakes in Cabin 8, the captain claims to be Isaiah Reed, who sailed the original Shenandoah in the eighteenth century. He cannot possibly be real, Melissa thinks. And traveling back in time is impossible. But days pass, and she's still in 1770.
What if Isaiah, who is simply too handsome to be real, is real? What if the fire he ignites in her from barely a touch isn't in her imagination? Can a dream last for weeks on end? If so, how will she find her way home...to the twenty-first century? And can she bear to leave the one man who has captured her heart, when everything in her longs to stay?
A Vineyard Romance Romance, history, adventure. Get swept into the exciting Winds of Change series.
If you liked to read the first chapter of
Shenandoah Dreams
, go
HERE
.
My Review
:
I absolutely loved this story. I am a fan of paranormal fiction when it merges well with reality and keeps my interest, and Shenandoah Dreams did more than that. It also kept me up late reading so I could finish the story and left me wanting more. I had to go online right away and find that this wonderfully talented author does have mores stories in this series.
The story is well written, the characters are engaging and although I was sad at those Melissa leaves behind in the present when she travels to the past. Her determination to figure out what is going on as well as try to survive in her circumstances kept me interested. Then, to have a budding romance in the past that makes her choice to try to return to the present just that much harder.
Melissa keeps her faith even when things are confusing and difficult for her. What a wonderful mix of clean fiction, christian faith with a little paranormal twist. I loved this story from start to finish and can't wait to grab and read more by author Lisa Belcastro.
ABOUT THE AUTHOR: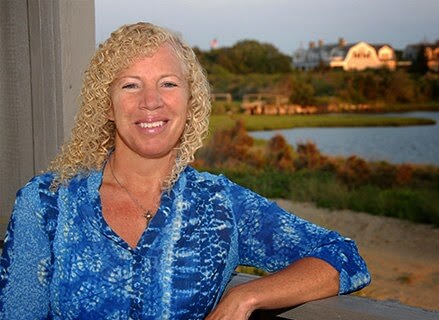 Lisa Belcastro lives with her family on Martha's Vineyard. She loves chocolate, gardening, outdoor activities, cooking, laughing, reading, traveling, a healthy dose of adventure, and her cat Ben, who keeps her company while she spends hours working at the computer.
She was inspired to write Shenandoah Nights, the first book in the Winds of Change trilogy, while chaperoning two Tisbury School summer sails with her daughter, Kayla, aboard the schooner Shenandoah. The week long adventure, sans electricity, Game Boys, iPods and modern conveniences, kindled her imagination to dream of an altogether different voyage.
In addition to writing romance novels, Lisa currently pens the cuisine column for Vineyard Style magazine. She has worked as a staff and freelance reporter and photographer for The Chronicle of the Horse and as assistant editor at The Blue Ridge Leader. She has written articles for USA Today, Dressage (London), USA WEEKEND Magazine, The Blue Ridge Leader and Sidelines.
When she's not at her desk, Lisa is living in paradise, volunteering at her daughter's school, serving in her church community, planting and weeding her numerous gardens, trying to run a marathon a month, or walking the beach looking for sea glass.

Disclosure: I received free the item(s) mentioned in this post in exchange for my honest review. Regardless ~ All my reviews are my honest and personal opinion.
I am disclosing this in accordance with the Federal Trade Commission's 16 CFR, Part 255: "Guides Concerning the Use of Endorsements and Testimonials in Advertising.".