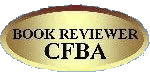 The Doctor's Devotion
by Cheryl Wyatt
Love Inspired by Harlequin
Available July 2012
Miniseries: Eagle Point Emergency
Genre: Inspirational Romance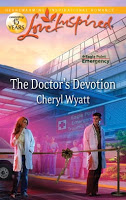 When he fled Eagle Point years ago, former air force trauma surgeon Mitch Wellington left only broken dreams behind. Now he's back with a new dream—opening a trauma center in the rural area and saving lives. He hopes to hire the quick-thinking nurse who impressed him during an emergency. But Lauren Bates lost her faith and doesn't believe she deserves to help anyone. Mitch knows firsthand what loss feels like. And it'll take all his devotion to show Lauren that sometimes the best medicine is a combination of faith, community—and love.
Available for Purchase:
Harlequin
Amazon
Barnes & Noble
ChristianBook.com
My Review
:
I enjoyed reading
The Doctor's Devotion
by
Cheryl Wyatt
. I have read many Love Inspired books over the years and continue to be amazed at what each new author can come up with to keep their story unique. I fell in love with Mitch and Lauren from the beginning of this book, I felt completely captivated while reading their story, and loved the banter between the two of them and "Grandpa Lem". Their unique, yet close-knit family ties to Lem, as well as their past hurts, and determination endeared them each to me as I read through this story. I will definitely be giving this story high ratings! A great intro to author Cheryl Wyatt's miniseries:
Eagle Point Emergency
.
Reading about the struggles and trauma that each of the main characters, especially Mitch and Lauren, go through drew me into this story in such a way that I was unable to put my book down until I had read it from cover to cover. I found myself laughing often, tearing up a few times and completely absorbed in the story. I am hooked now on this miniseries and will be anxiously awaiting more stories about the characters I have grown to love in
The Doctor's Devotion
! I especially look forward to reading more about Ian's story!
About the Author
: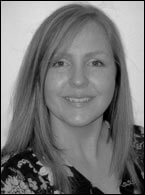 Cheryl Wyatt's closest friends would never dream of the mayhem she plots during announcements at church. A Registered Nurse-turned-Stay-at-Home-Mom, joyful chaos rules her home and she delights in the stealth moments God gives her to write. She stays active in her church and in her laundry room. She's convinced that having been born on a naval base on Valentine's Day destined her to write military romance.
Her debut novels,
A Soldier's Promise
and
A Soldier's Family
release from Steeple Hill publishers in January and March 2008. Prior to publication, Cheryl was published in non-fiction and had six manuscripts place in twelve RWA contests.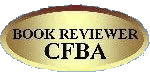 I received one or more books or products in the post above for review purposes through Christian Fiction Blog Alliance. I was in no way required to write a positive review. All my reviews are my honest and personal opinion . If you have any questions or comments, please see my FTC disclosure or Review Policy.