SIGNUPS END JUNE 30TH-
WILL RUN JULY 8TH TO AUG 8TH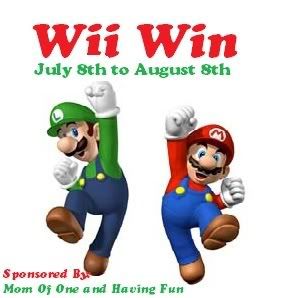 Prize Package Is:
Black Wii Console with Super Mario Brothers and CD - Includes Controller and Nunchuck
ARV $150
Built-in Wi-Fi Access For Easy Connection To Internet
Netflix instant streaming functionality allows for thousands of movies, TV shows, cartoons and more right on your TV
New Super Mario Bros. Wii offers a 1-4 player, cooperative or competitive experience
Games coming with this?! OF COURSE!
Drawsome! Tablet: Includes 2 games/1 Featuring Smurfs ARV $60
Disney Sing It: Pop Hits: ARV $30
SpongeBob Boating Bash: ARV $20
Babys First Steps: ARV $20
Xtreme Fit Interactive Gaming System - NOT a Wii Game but it's Great for Mom and Dad ARV $75
OVER $300 in Prizes! YAY!
Cost of this giveaway: $5 for 2 links (facebook and twitter), $1 for additional links (up to 3 more) and $2 for a backlink.
Post about this giveaway and get a 3rd link free
(Must still pay $5 for the first 2)- remember you want as many people to sign up under your name for the referal prize! Copy and Paste! (FREE LINK WILL NOT BE VALID ON THE 30th! So HURRY and sign up TODAY!)
Sign ups will end June 30th- So sign up NOW!
MAKE SURE TO MENTION THAT LOVES 2 READ REFERRED YOU!
READY Click to Sign Up...For Wii Win!