Harvest of Rubies
River North; New Edition edition (May 1, 2012)
by
Tessa Afshar
ABOUT THE BOOK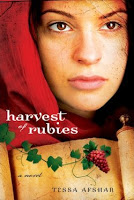 Remarkable Talent Threatens to Cloud a Life
The prophet Nehemiah's cousin can speak several languages, keep complex accounts, write on tablets of clay, and solve mysteries. Her accomplishments catapult her into the center of the Persian court – working long hours, rubbing elbows with royalty, and becoming the queen's favorite scribe.
Not bad for a woman living in a man's world: so why does Sarah feel like a failure?
A devastating past has left Sarah with two conclusions: that God does not love her, and that her achievements are the measure of her worth – a measure she can never quite live up to.
Darius Pasargadae is accustomed to having his way. A wealthy and admired aristocrat, the last thing he expects is a wife who scorns him.
Can two such different people help one another overcome the idols that bind them?
If you would like to read the first chapter of
Harvest of Rubies
, go
HERE
.
ABOUT THE AUTHOR: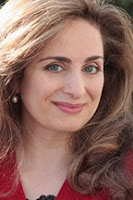 TESSA AFSHAR was voted "New Author of the Year" by the Family Fiction sponsored Reader's Choice Award 2011 for her novel Pearl in the Sand. She was born in Iran, and lived there for the first fourteen years of her life. She moved to England where she survived boarding school for girls and fell in love with Jane Austen and Charlotte Bronte, before moving to the United States permanently. Her conversion to Christianity in her twenties changed the course of her life forever. Tessa holds an MDiv from Yale University where she served as co-chair of the Evangelical Fellowship at the Divinity School. She has spent the last thirteen years in full-time Christian work.
I have not yet had the opportunity to read this book, but I look forward to it! I had the privilege of reviewing Tessa Afshar's previous book: Pearl in the Sand. You can read my review HERE.

I received one or more books or products in the post above for review purposes only. I was in no way required to write a positive review. All my reviews are my honest and personal opinion . If you have any questions or comments, please see my FTC disclosure or Review Policy.