Ordinary Magic
By Caitlen Rubino-Bradway
A great Children's Fantasy Adventure

In the vein of Dragon Slippers and The Wide-Awake Princess comes a delightful new voice in middle grade fiction about a young girl cursed to be ordinary, in a world where magic is the norm.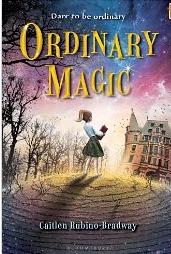 In Abby's world, magic isn't anything special: it's a part of everyday life. So when Abby learns that she has zero magical abilities, she's branded an "Ord"-ordinary, bad luck, and quite possibly a danger to society. The outlook for kids like Abby isn't bright. Many are cast out by their families, while others are sold to treasure hunters (ordinary kids are impervious to spells and enchantments). Luckily for Abby, her family enrolls her in a school that teaches ordinary kids how to get around in a magical world. But with treasure-hunting kidnappers and carnivorous goblins lurking around every corner, Abby's biggest problem may not be learning how to be ordinary-it's whether or not she's going to survive the school year!
My Review
:
I found Ordinary Magic by author Caitlen Rubino-Bradway to be fun, entertaining and adventurous. Abby is a strong and determined young girl, and I loved reading her reactions to the strange and sometimes dangerous situations. I can definitely see this being a popular book for ages 10 and up, especially for girls; although I think even boys will like all the magic and mahem in this story. A very engaging, and unique look at the magic world, poor Abby finds herself in the minority when she is declared to be a non-magical child ~ basically one of the few "normal" and non-magical people in a world completely full of magic.
I really enjoyed this story and loved reading along as Abby discovered new and interesting things about herself, her family and those she has known her entire life. She makes new friends, new discoveries and battles some real "meanies" in this entertaining fantasy adventure. A really fun read for ages 10 and up!
Author Caitlen Rubino-Bradway
is also the author of the adult novel
Lady Vernon and Her Daughter
, which she wrote with her mother. This is her first book for younger readers.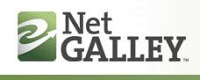 I received one or more books or products in the post above for review purposes through Netgalley. I was in no way required to write a positive review. All my reviews are my honest and personal opinion . If you have any questions or comments, please see my FTC disclosure or Review Policy.