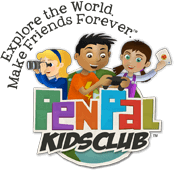 About Pen Pal Kids Club from Shelley Aliotti the Creator and Founder:

The concept of Pen Pal Kids Club started when I was a kid…like many kids back then, around the world, I had a Pen Pal – Michi from Japan. Through her letters and mine we shared, learned and forged a unique friendship. That relationship, and fun, stayed with me as I grew, married, became a mom and now a grandmother.

In 1995, I decided to share this experience by creating My Pen Pal Scrapbook. I traveled to schools, groups, organizations and more. My Pen Pal Scrapbook made it easy and safe to share, learn and create friendships for life…worldwide.

I am proud to say that the original My Pen Pal Scrapbook has been read throughout the world. We are very excited that Pen Pal Kids Club has become more interactive, exciting and…much easier to use. Now as a global website, kids can Explore,Play and Share – within a completely safe site…from any computer! Kids are able to send digital postcards to one another and, with the speed of the internet, they can quickly see, that despite their physical and geographical differences, they are all much the same inside.

At Pen Pal Kids Club there will be no outside advertisers, members or hidden traps - this is a completely safe site. We sum it up by saying that, by joining Pen Pal Kids Club now, your family will begin safe, new adventures in Exploring, Playing & Sharing - in your home...and around the world! At Pen Pal Kids Club, on this virtual global playground, children everywhere will find that "The world is just a friend away."
About Pen Pal Kids Club:
-
Encourages a love for learning about other cultures
-
Helps children embrace similarities and differences
-
Kids can write and receive digital postcards from around the world
-
Postcards are translated into 7 languages:
-
Advertiser-free site with built-in parental controls offers the ultimate in online safety
Pen Pal Kids' Club is considered "the world's only safe, translated global social network for children where kids can freely share, explore, and play with other kids around the world!"


Our Review:
My children and I have recently been exploring the Pen Pal Kids' Club website for this review. My 7 year old daughter loves the idea of being able to send postcards and receive them from "new friends" all over the country and the world. She has 2 little girls who live in the US who she has exchanged a couple of cards with. Reading their messages was cute!
My 10 year old son likes the games some, but says "they are slow and too easy, but still kind of fun." There are several easy to play games that teach the kids about geography, following directions, matching and more. As a parent, I like the fact that this website is used primarily by younger kids and their parents, and seems safe just as described. I remember sending Pen Pal letters overseas when I was in Elementary School. The anticipation of waiting what seemed like "forever" for a reply is removed with Pen Pal Kids Club. The postcards are sent as fast as emails and cuts out all the wait of snail mail. Although at this time, and age, I don't see deep friendships being made through PPKC, but the experience and fun is something they will remember for years to come.
We really enjoy the PPKC and know that others will as well. So check it out, give it a try and see if you like it as well.
Pen Pal Kids Club
Website:
https://www.penpalkidsclub.com/
Facebook:
#/PenPalKidsClub
Twitter:
#/#!/PenPalKidsClub
*Note:
PPKC is fully compliant with the Federal Trade Commission (FTC) and Children's Online Privacy Protection Act (COPPA) www.coppa.org. PPKC has recently earned the TRUSTe seal of safety, www.truste.com.

Disclaimer: I received a free trial of the website mentioned in the post above for review purposes only. I was in no way required to write a positive review. All my reviews are my honest and personal opinion. If you have any questions or comments, please see my FTC disclosure or Review Policy pages.