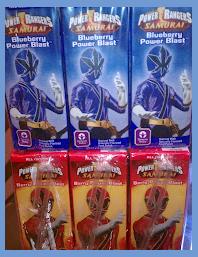 I had the opportunity for my kids and I to try a new product currently on the shelves in Walmart Stores.
Saban's
Power Rangers Samurai
has teamed up with Genesis Today, a superfruit pioneer and purveyor of one of the nation's fastest growing healthy foods, beverage and nutritional supplement companies, to empower children to make healthy eating habits with the new
Power Rangers Power Blast Juice Boxes
!
Here's some great info about Power Rangers Power Blast Juice Boxe s:
*

Power Rangers Power Blast Juice Boxes
have have 50 percent fewer calories and half the sugar content found in the leading children's juice boxes.
*The juice also contains 11 vitamins, minerals and nutrients, including 250% of the daily value of Vitamin B12, 150% of the daily value of Vitamin C, Vitamin B6, Niacin, Zinc, Pantothenic Acid, Calcium and Vitamin D PLUS Omega-3 DHA.
*The juices are all-natural and contain absolutely nothing artificial - no artificial dyes, flavorings, colors, sweeteners, High Fructose Corn Syrup, or chemicals.
*

Power Rangers
Juice
is sweetened with a proprietary blend of stevia and cane sugar.
*

Power Rangers
Power Blast Juice Boxes
are available for $2.99 exclusively at Walmart stores right now, but are suppposed to be more widely available at grocery stores nationwide sometime later this year.
Our Review
:
My kids and I tried these juice boxes, and found that they are pretty good. We were sent a package of Berry Power Blast in the red box, and a package of Blueberry Power Blast in the blue box. My son liked the Berry Power Blast better, and my older daughter liked the Blueberry Power Blast better. My youngest thought they were both good. So we have a variety of responses to both flavors. Compared to regular juice boxes, they have a less sugary taste and I feel better serving them to my kids - when compared to REGULAR juice boxes. I usually purchase a brand that is made from both fruit and veggies, and has a bit better flavor according to my kids and myself. Our overall opinion is that the
Power Rangers
Power Blast Juice Boxes

I received one or more books or products in the post above for review purposes only. I was in no way required to write a positive review. All my reviews are my honest and personal opinion
. If you have any questions or comments, please see my FTC disclosure or Review Policy.