ImInIt (I'm In It!)
Personalized Ebooks for Kids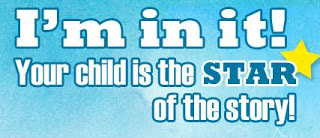 I'm In It!
ebooks are personalized children's stories that feature your child as the star. They are an educational step above the industry standard, challenging young readers with interesting topics and introducing advanced words.
I'm In It! ebooks make learning fun and are ideal for many ages:
o
Encourage imagination with your Preschooler
o
Engage your Kindergartner with a story all about them
o
Excite your Elementary-aged children with interesting stories, new words and concepts
o
Expand language understanding with English, Spanish and French versions
Choose any title to gift as the perfect gift. Each copy includes a free printable greeting card and a recordable personalized messge that introduces the book to your gift recipient. Additionally, each ebook includes a glossary of new words and a set of coloring pages so your child can continue the adventure in a creative way. Perfect for the mobile family.
– I'm In It! ebooks are compatible with your iPad, iPhone, Android device, NookCOLOR, PC and MAC and can be downloaded to as many devices as you choose. Get a new story for your next long car ride, plane trip, or doctor's appointment. With 2 new titles each month and affordable pricing, you can quickly turn your iPad into a personalized children's library!
My Review
:
I was given a code to personalize an ebook for this review, I chose to try "First Day of School" since my youngest child will be starting Preschool this fall. The story is about a Mermaid in the ocean who is excited and a little scared about her first day of school.
The mermaid's hair color was customizable, so I changed it to brown to match my daughter's hair color. And the personal information that I put in, made the story special since the mermaid now has my daughter's name!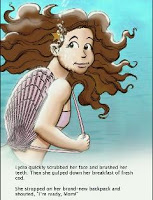 She was so excited to read about a mermaid with her name. She loves reading this book on my computer (I do not have an Ipad yet). I like the cute pictures and sweet, entertaining story. It captured my daughter's interest and imagination. ImInIt has other books for boys and girls to enjoy, some about a sea captain, volcanoes and more. These adorable ebooks are inexpensive and fun.
**I have been given the opportunity to provide 10 FREE ebooks from IMINIT for a giveaway event on this blog, the Back to School Bash - starting on Aug 1st.
*In addition to those giveaway copies, anyone who uses
this code (
ImInIt-002
), will receive 50% off of a personalized ebook of their choice.
To visit the website, go to this link:
http://www.iminit.biz/

I received one or more books or products in the post above for review purposes only. I was in no way required to write a positive review. All my reviews are my honest and personal opinion . If you have any questions or comments, please see my FTC disclosure or Review Policy.