Daughter of Light
by Morgan L. Busse
About the Book
:
Rowen Mar lives in fear that if she touches another person, the power inside her will trigger again, a terrifying power that allows her to see the darkness inside the human heart. But those called cannot hide forever, for the salvation of her people lies within her hand.
My Review :
A little about the story:
Rowan is an outcast. She has been raised by a couple who adopted her as a baby. She has never been accepted in her country town, and when she shows signs of a power that nobody understands; she is accused of witchcraft and banished from her home. When offered a chance to work as a Varor (bodyguard) to a royal princess, she jumps at the opportunity, since she has nowhere else to go. Since her father had taught her to use a sword before he went off to war, she feels this is the best hope she has for a future, as long as she can hide her unique abilities and the mark on her hand.
Daughter of Light is Rowan's story of longing, fear, trust and redemption. Even with questions burning inside her, she does not trust anyone enough to ask about her unique abilities. She does not find out the truth about her heritage until her life is in danger. Rowan is a survivor. She is a strong young woman, but with inner fears. As I read through this story, I felt and instant connection with Rowan's character. I was so emotionally involved in her story that I could not put the book down (well, ebook anyway) until I had read the whole story. I was intrigued as well by Lore. Although he has his own struggles, he puts the welfare of others first, and his job as 2nd in command of the King's Army, as well as one of the Varor (bodyguard) to the King.
I felt that this book was very well written, well thought out and definitely worth reading. I was captured not only by the author's amazing descriptions of places and scenes, but with the wealth of information about each character and their interactions or relationships with each other. I loved the bit of mystery and danger, as well as the heartwarming moments throughout this story. I enjoyed the subtle faith of many of the characters in the story.
Due to a few sensitive subjects, moments, within the story; I recommend this book for ages 16 and up. This is a good, clean Young Adult, or adult fiction novel well-worth reading more than once. I hope that author Morgan Busse writes a sequel, as I'd love to continue on Rowan's and Lore's journeys; as well as see what happens to Caleb.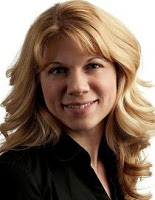 Author blurb :

Morgan L. Busse writes stories about hope. She believes that in the dark times of life, there is light and draws on her own life's experiences. From the moment she first read The Hobbit, Morgan has loved the fantasy genre. Both J.R.R. Tolkien and Terry Brooks are the inspirations behind her writing. She is the author of
Daughter of Light
, the first in a series from Marcher Lord Press. Morgan lives in the Midwest with her husband and four children.
You can find about more about Morgan at
www.morganlbusse.com
.
Places to purchase book:
Or at any online book retailer.

I received one or more books or products in the post above for review purposes only. I was in no way required to write a positive review. All my reviews are my honest and personal opinion . If you have any questions or comments, please see my FTC disclosure or Review Policy.