Book 1 of the Blacklight Chronicles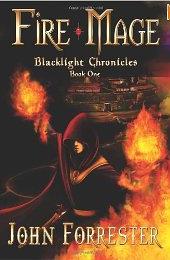 For centuries, mages perfected magic at the Order of the Dawn. Mastery over fire, wind, and storm. They live in the last free city in a world plagued by dark sorcerers.
Talis Storm and friend Mara discover a terrible secret. The Jiserian Empire has targeted their city for attack. An army of undead soldiers. Flying necromancers. None have ever survived.
When a surprise aerial invasion hits the Order's temple, Talis casts fire magic for the first time. But his spell is wild and does more harm than good. Sorcerers try to capture Talis and Mara. They flee into the temple crypts. Awoken from an ancient rest, a fallen champion slays the sorcerers and gives Talis a legendary map. The map leads them on a quest to discover the lost temple of the sun.
To save his city, Talis must discover the power of magic locked away inside the ancient temple. And become a true fire mage.
My Review
:
Fire Mage is written by John Forrester and is the first book in the Blacklight Chronicles. Fire Mage is about the attack on Naru, the city in which Talis Storm and his best friend Mara Lei; and their journey to find a way to save their city from destruction. When attacked and chased into the tombs of the dead, Talis comes face to face with one of the dead Champions of Naru- who gives him a powerful, sacred map that will show him where to go to help save his beloved city.
Set out on their quest, along with soldiers, friends and anatgonistic peers; Talis and Maral face dangers, near death and so much more.
I found Fire Mage by John Forrester to be an exciting and fast-paced fantasy adventure. The author gives great details of each event as it happens, and made it easy for me to imagine what was occurring in the story as I was reading along. I definitely think younger readers, ages 12 and up, will really enjoy this book as much as older teens and young adults.
The characters are amazing, and quite well-developed. The two main characters are 13 years of age, and their friends and antagonists are similar in age; yet they all perform tasks and magic usually reserved for adults in most books. The ending leaves the reader wondering what will happen next, which is a great way to keep the reader coming back for more. I did enjoy this book, though there were a few parts that I had to reread to fully understand all that was going on with the story.
I look forward to reading book 2 in this series: Sun Mage, to continue the journey with Talis, Mara, and their companions. Fire Mage is a great book for middle grade to young adults.

I received one or more books or products in the post above for review purposes only. I was in no way required to write a positive review. All my reviews are my honest and personal opinion . If you have any questions or comments, please see my FTC disclosure or Review Policy.