About the Book ~ *Now Available on Amazon*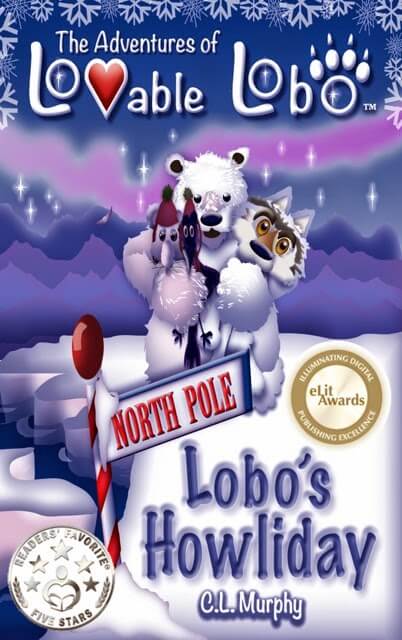 Title: Lobo's Howliday (The Adventures of Lovable Lobo) | Author: C.L. Murphy | Original Publication Date: Dec. 1, 2013 | Publisher: Independent – Peanut Butter Prose | Number of pages: 32 | Recommended age: 3 to 7
Summary: It's almost Christmas and Santa finds himself in quite the predicament due to unintended consequences as a result of trying
something new. Lobo, and his raven sidekick, Roxy, travel to the North Pole to help the jolly ole' one and are guided by the Arctic animals. The colors of the season delight along the way and make for a howling good holiday. Can you howl Ho Ho Ho?
2014 Gold Medal Winner – eLit Awards

My Review
:
What an adorable book! Lobo is such a sweet character. Children of all ages will enjoy reading the fun story of Lobo and his friends helping out Santa.
With colorful and vibrant illustrations and fun wording, parents will enjoy reading Lobo's Howliday to their little ones over and over throughout the year.
Well written and fun to read. A must-have book for any Christmas Collection.
About the Author: C.L. Murphy
While new to the children's book writing and illustrating scene,
C.L. Murphy
(Cathy) has been doodling her way through life since she won a school wide poster contest in the third grade. She's had the pleasure of working as an artist in residence, creating cartoons and painting murals with the children at local elementary schools. She adores the wonder and curiosity of young children.
She feels that creating picture books is something that she was destined to do, after years of filing away so many ideas, while raising her two sons. She is a member of SCBWI.
She lives amongst the wildlife in an enchanted forest in the beautiful Oregon wilderness with her husband and menagerie. She has always appreciated nature and animals have always played a major role in her life. The inspiration for the Lovable Lobo character came from a wolf that she raised for over 14 years.
Check out her book series and discover that you, too, will find Lobo lovable.

Disclosure: I received free the item(s) mentioned in this post in exchange for my honest review. Regardless ~ All my reviews are my honest and personal opinion.
I am disclosing this in accordance with the Federal Trade Commission's 16 CFR, Part 255: "Guides Concerning the Use of Endorsements and Testimonials in Advertising.".