Signature Skin
was developed by Plastic Surgeon, Dr. R. W. Maloney. He has developed a complete skin care program to enhance and maintain the surgical results for his patients and those wanting to look their best at any age with or without surgery. This treatment plan is safe and easy to use. Signature Skin products combine advanced medical research with proven clinical performance.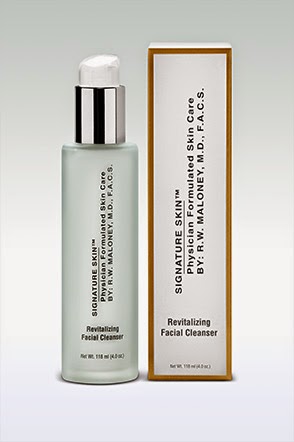 Signature Skin Cleanser
is a gentle, natural skin-cleansing agent. It is the best natural way to remove makeup, invisibly exfoliate and
moisturize your skin. This results in a much smoother skin
surface and a more youthful appearance while stimulating epidermal repair.
Signature Skin Cleanser is valuable for all skin types including acne and rosacea prone skin. Signature Skin Cleanser combines a penetrating glycolic compound with a unique Marine Botanical extract harvested from the Northeastern Coast of Brazil to enhance the benefits and prevent skin irritation common to glycolic compounds. This unique Marine Botanical kills harmful bacteria that may commonly occur on the skin and in the pores, including MRSA and E-coli types.
Signature Skin is compatible and synergistic with Retin-A™, alpha hydroxyl acids and sunscreens. Signature skin is anti-inflammatory and will enhance your tolerance to Retin-A™. It is non-allergenic, fragrance free, non comedogenic and non oily. Signature Skin has also demonstrated remarkable results in the therapy of Rosacea.
My Review :
The Signature Skin Cleanser is very gentle on my skin, which for someone with sensitive skin it is wonderful. It does a good job of making my skin feel
fresh and clean. My face feels smooth after using this wonderful cleanser to wash away makeup and daily dirt and grime and impurities.
It only takes a small amount to clean my whole face and neck so it has lasted a long time which of course is wonderful for those who are savvy shoppers. Although the product retails for $35.00 - it does last a long time.

Disclosure: I received free the item(s) mentioned in this post in exchange for my honest review using Tomoson.com. Regardless ~ All my reviews are my honest and personal opinion.
I am disclosing this in accordance with the Federal Trade Commission's 16 CFR, Part 255: "Guides Concerning the Use of Endorsements and Testimonials in Advertising."