About the Book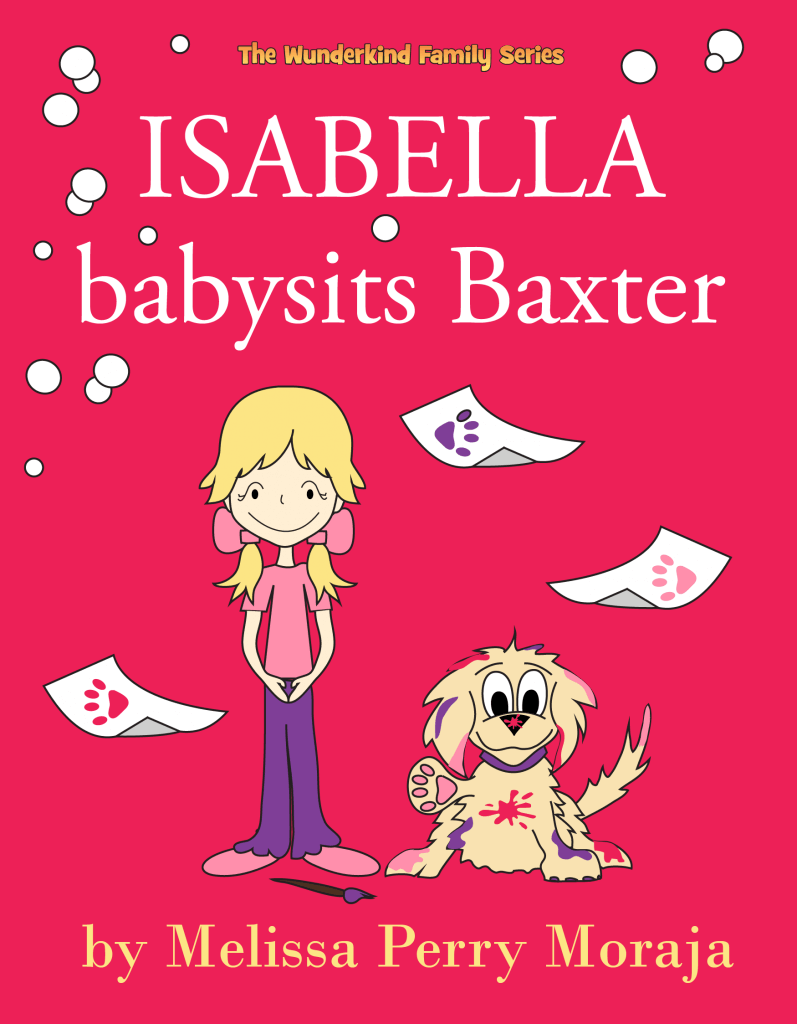 Title: Isabella Babysits Baxter | Author and Illustrator: Melissa Perry Moraja | Publication Date: October 27, 2014 | Publisher: Melissa Productions | Pages:32 | Recommended Ages: 3 to 8
Summary:
Six year old Isabella usually is the one who has a babysitter. But when her enormous puppy named Baxter creates a mess and prevents her mom from working, Isabella's mom asks her to babysit him. And Isabella knows exactly what to do! Or does she? First, Isabella gets Baxter dressed…TWICE! Next
they have a snack, but not without a CRASH and a BANG. And that's just the beginning. Join Isabella in her very first picture book filled with lots of humor and adventure as she tries to keep Baxter from making a bigger mess.
Sneak Peek
Review
:
This is an absolutely adorable book. Isabella learns some tough lessons when she has to "babysit" her puppy Baxter to keep him from bothering her mother. She has to find creative ways to keep him out of trouble and from making a lot of messes.
At the end of the story, when "mom" goes to find them, she sees them both cleaning up. What a great way to show little ones that cleaning up can be fun and rewarding.
A short and sweet story that would make a nice addition to a child's ebook collection! Especially for only $0.99 on Amazon!
About the Author:
Melissa Perry Moraja
, Award-Winning Author and Founder of Melissa Productions, Inc., is an entrepreneurial mom, a multifaceted business woman, a creative producer, and an author and illustrator of numerous modern-fantasy children's books and self-help books. And that's just the beginning!
Melissa also has published articles, appeared on television, been interviewed on radio, has spoken in front of hundreds of people, and held workshops at local schools, discussing creative learning, publishing and parenting. Her desire to make a difference in her four young children's lives inspired her to leave her six-salary career at IBM in 2007 to become a full-time mom, children's author, speaker, and consultant. Melissa spends her personal time coaching soccer and softball, painting, and coming up with fun art projects for her kids.
She also blogs for
Working Mother blog
,
has guest blogged for
Charlotte Observer
Mom's Charlotte
,
and has her own personal blog at
Not Your Ordinary Psychic
Mom
. Melissa is also committed to building awareness and support for type 1 diabetes. Her twin daughter was diagnosed with type 1 diabetes November 4, 2011. To learn more about Madison's type 1 diabetes disease please read
M
adison's Story.

I received free the item(s) mentioned in this post in exchange for my honest review. Regardless ~ All my reviews are my honest and personal opinion.
I am disclosing this in accordance with the Federal Trade Commission's 16 CFR, Part 255: "Guides Concerning the Use of Endorsements and Testimonials in Advertising.".