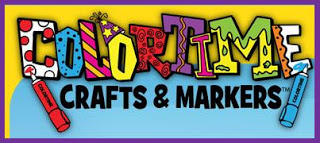 Colortime Crafts and Markers make travel, crafts and playdates more fun than ever. They have items for Girls, Boys, Scouts, Holidays, T-shirts, Backpacks, Pillowcases and much much more! Check out their products to color and their Permanent Fabric Markers! Such fun to be had for little cost!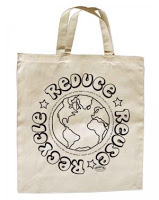 Check out this adorable "green" bag that we received for this review. My youngest Daughter - Lydia decided it would look good "splashed" with color. Unfortunately she then took it into the backyard to play with and left it out all night during a storm so it didn't look nice enough to take a picture of. (Though it is washable and is currently in the laundry getting cleaned up!)
This is a fun bag that you can have your kiddos personalize just for you. Let them show their style with this tote bag with permanent, non-toxic fabric markers. Having a playgroup, class, youth organization, or scout group color this 100% cotton muslin tote bag is a great way to encourage recycling and environmental awareness. It makes the perfect customized gift for grandparent or makes a handy way to carry library books, gardening tools, or toys! Color this 15" X 16" tote bag with Colortime's permanent fabric markers!
I love the quality of the bag - it is not one of those flimsy poorly made type but is constructed well with strong seems and made to last (even through storms apparently). There are MANY fun things to find at ColorTime Crafts like personalized pillowcases that are great for sleepover parties! Or backpacks and T-shirts to color for family travel or just for fun.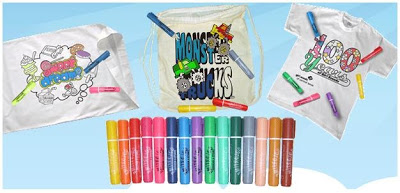 ColorTime Markers work perfectly on any fabric. They are Permanent Markers for fabrics! They are larger than regular markers and made to last longer so you can get lots of repeated use from them! But remember, they are PERMANENT - so they are harder to get off little hands than those washable, so make sure to keep watch over younger artists while using these markers or you may end up with more than just a cute bag . . . If your little one(s) is anything like mine, they love to color on things other than paper or fabric -
Thankfully this didn't happen with our ColorTime Markers!

I received this item free in exchange for my honest review. Regardless ~ All my reviews are my honest and personal opinion and are not influenced nor reviewed by the sponsor prior to posting.
For more info, see my FTC disclosure or Review Policy.