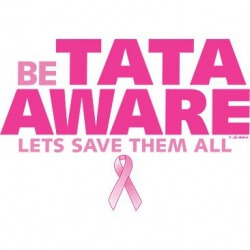 through Tomoson.com. I was able to choose the size I wanted for this review. I chose a Men's Large so it would be a nice roomy shirt for me to wear. The shirt is a nice quality 100% cotton T-shirt that did not shrink when washed - which is nice! These Breast Cancer T-shirts are available for purchase on the website in over 300 sizes, styles and color combinations.
My shirt is comfortable and fun to wear. Although I usually don't like wearing a White T-shirt, I love the fact that I am supporting Breast Cancer Awareness when I wear this one. If you are looking for a way to show your support this is a great way to go.
Some of the other designs I really like are:
There are so many designs to choose from, that I have a hard time deciding which one I want to purchase next! If you are looking for other fun T-shirt styles, the website also has shirts in a huge variety of categories like: Dog shirts, Redneck shirts, Hunting, Military, Bacon shirts, "I'd rather be", and so many more including Personalized T-shirt options. So check out Breast-Cancer-Tshirts.com for great T-shirts for the whole family!

I received one or more books/products in the post above for review purposes only through Tomoson.com. I was in no way required to write a positive review. All my reviews are my honest and personal opinion
. This disclosure is in accordance with the Federal Trade Commissions 16 CFR, Part 255 Guides Concerning the Use of Endorsements and Testimonials in Advertising. If you have any questions or comments, please see my FTC disclosure or Review Policy.