For our kids' Spring Break from school, my husband and I decided to take them to St. Louis, MO for a short weekend trip. My husband booked our hotel room using his Holiday Inn Points from all his travel with his job. We planned to find a fun activity to do once we arrived on Friday, then spend the evening letting the kids swim in the hotel pool. We planned to go to the Zoo on Saturday, early enough to get there when it opened, then head home on Sunday.
Well, all good plans do not always work out in the expected way. Sometimes they turn out better . . . many times, especially when traveling with kids, they turn out much worse.
On Friday, we left the house almost exactly on time - super start to our vacation. The kids actually behaved quite well all the way to St. Louis.
*Click here For some of my Family Travel Tips*
LUNCH :
We stopped just off the interstate for lunch - and of course I wanted to try someplace I had not eaten before. I took a chance and chose "Jack in the Box" which is a sort of fast food chain, and I'd heard that they have a nice selection of different kinds of burgers. When we went to order there were three workers in the back who were talking and laughing very loudly. It took nearly 30 minutes to finally get our food, and our fries had all been sitting waiting for nearly 10 minutes - all the food was cold, the fry boxes were only half full, and my burger tasted like someone had poured pepper all over it. Then, when the "lunch rush" started arriving, all of a sudden two of the female workers decided to sing (badly I might add) some weird "jingle" very loudly before taking more orders. It was a horrible experience and I must say I most likely will never eat at ANY "Jack in the Box" again.
I wish I owned an iPad so I could have looked up restaurant reviews before choosing for the family - maybe someday! Next time I think I'll plan our meal stops before we leave the house so I CAN look up reviews!
ARRIVAL :
My husband decided we should take them to the St. Louis Science Center for the first day's activity. So that is what we did!
The only negative - I forgot my camera in the car!
*so my son took pictures on his camera instead - he did a great job too . . . what do you think?
The Science Museum was a lot of fun. There are activities for almost all ages. Not very toddler friendly, but from preschool up there are different areas of play activities that engage children's interest and teach them fun facts while at play.
We also went to see a show about the Stars and the Hubble Telescope in the Planetarium's Omnimax theater. For me personally, I thought it was boring and of course heavy on the "big bang theory" and "evolution" but thankfully my youngest doesn't yet understand all that. The kids seemed to enjoy it for the most part, though my son did make sure to talk quite a bit about scientific theory verses Creation. I love when my kids show they are listening to their parents!

HOTEL :
Next, we headed to our Holiday Inn Hotel in Pontoon Beach, IL - just outside of St. Louis. I had called ahead a few days prior to our trip to make sure we were still booked in either a Kid's Suite or an extra large double room so we could be comfortable. With three growing kids, we need plenty of space for them to sleep and everyone to move around as well. I was told that we were "booked" for both "larger" rooms so that we would "definitely" get one of them when we arrived! Super!
When we arrived, more than ready to unload and check in - there was a hotel employee sitting right outside the front doors smoking when we pulled up. As my husband got out of the car, that employee stood up and went inside - he was the front desk staff. Very unprofessional!
Then, they told my husband that they didn't know anything about us having a larger room and all the Kid's suites were booked. Since I was the one who spoke with a staff member on the phone, I went in to explain. After that staff person asked another one about the "bigger" rooms I was told about. He finally found them and they also had been booked. The only rooms left that would fit us all were the regular Two Double Bed rooms. Due to the confusion, they offered us back the "points" for one of our two-night stay. I thought that was a nice gesture on their part.
They provided a roll-away bed for the other - unfortunately my son was so uncomfortable on it that we had to give him the second Double bed and split up the girls - now we needed a Pallet for our youngest - only to be told that they don't have "extra" bedding (blankets and such) - ??? really - NO extra blankets? in a Hotel!!
Ok, so the stay was frustrating - they never cleaned our room while we were there, but was it the worst place we've stayed?? Not really -
Would I stay there again? Most likely NOT!

NOW - for the most fun of our weekend - The ever famous St. Louis ZOO! The last time we were at this zoo, my son was only 3! He is now nearly 12. AND - he remembers being at the zoo when he was 3!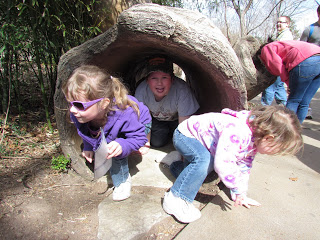 Josh's favorite thing to do is riding the TRAIN - :) same as when he was 3!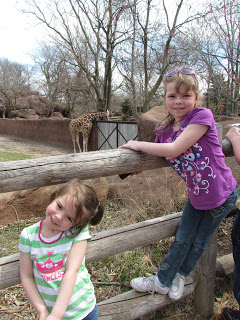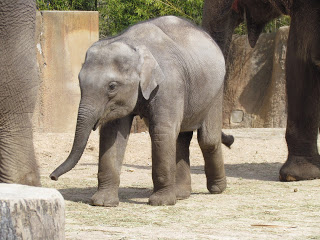 My girls loved the train, the carousel, and all the animals - Alli & Lydia also loved seeing the baby Elephant and Penguins sitting on eggs - baby penguins coming soon!
We all had a lot of fun at the Zoo. My husband was smart and planned ahead for this activity. We purchased a family zoo membership - considering that parking cost $15 and the extra attractions like the Train and Carousel also cost $, it worked out to be a great discount and is good for an entire year! Here is what we get with our membership:
48 Anywhere Plus Passes (redeemable for Zooline Railroad, Children's Zoo, Stingrays at Caribbean Cove, Sea Lion Show and Conservation Carousel)
Free parking -- six visits
Zoo calendar
stlzoo member magazine
10% discount in all Zoo gift shops, face painting and caricatures
10% discount on food purchases at the Zoo
10% discount on standard wheelchair rentals
Discounted admission to participating AZA zoos
Zoo Friends Day invitation
Discount and early registration for education programs (including Camp Kangazoo, Wild Nights and Engineer-for-a-Day)
Discount Admission to signature Zoo events (such as Boo at the Zoo, Wild Lights and ZOOFARI)
Member e-newsletter
Birthday Card with free lunch coupon for kids 12 and younger plus 10% Birthday Party Discount
One Membership Card
AND, with this membership we get a 50% discount to our Local Zoo Too! Peoria Zoo here we come! Well, not until this summer anyway!
So, our trip overall was great. We had some amazing adventures, and some not so great experiences that we have learned from. I highly recommend St. Louis, MO as a great family getaway. Our next trip (hopefully this fall) will most likely include a return Zoo visit along with a visit to the St. Louis Arch. Josh and Allison both have visited the Arch, but Lydia has not.
**What are YOUR family travel stories? Feel free to share them below! Have you posted on your blog or facebook about them? Feel free to share the link with me and I'll stop by and leave a comment!