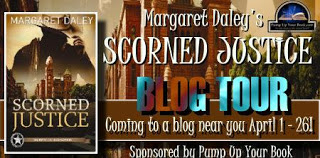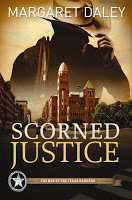 Texas Ranger Brody Calhoun is with his parents in west
Texas
when an unexpected attack injures the brother of Rebecca Morgan, Brody's high school sweetheart. The local sheriff, a good friend, asks for Brody's help. At first, it seems an open-and-shut case.
As Brody digs deeper, he realizes the attack may be related to an organized crime trial Rebecca will be overseeing. With Rebecca's help, he compiles evidence involving cattle rustling, bribery and dirty payoffs that shatter the entire community and put Rebecca directly in the line of fire.
Brody expects to protect her. What he never expects is to fall for Rebecca all over again, or for a murder to throw the case wide open. Is Brody's faith strong enough to withstand not only deep-rooted corruption and cattle rustling but also love?
My Review
:
Author Margaret Daley has done it again. Scorned Justice is another wonderfully written, in depth mystery that captured my interest from page one and kept me reading late into the night. The main characters, Brody and Rebecca are strong, well-developed characters that add depth to the story. Even the "side" characters like the housekeeper and Brody's dad have such depth. Brody and Rebecca are determined people who both want to see justice done. The story is dynamic and I couldn't stop reading until the story had ended. Rebecca's broken heart and unwillingness to start any new relationships tugged at my heartstrings. The budding romance between her and Brody kept me on edge til the end. The danger in the story kept me guessing til near the end. I really enjoyed this book and look forward to more novels by author Margaret Daley.
About the Author :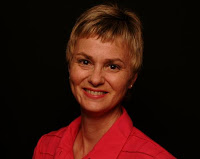 Margaret Daley, an award-winning author of eighty-three books, has been married for over forty years and

I received one or more books/products in the post above for review purposes only. I was in no way required to write a positive review. All my reviews are my honest and personal opinion
. This disclosure is in accordance with the Federal Trade Commissions 16 CFR, Part 255 Guides Concerning the Use of Endorsements and Testimonials in Advertising. If you have any questions or comments, please see my FTC disclosure or Review Policy.