ABOUT :
Tattoos can add to your mystique, set you apart from the crowd and make you look downright sexy, but not everyone wants to go under the needle to get the look of a tattoo.
With the Bellesentials Sexy Temporary Tattoos Set, you can fake the look of gorgeous body art and not have to worry about pain or making a permanent commitment to a graphic.
You'll find a total of six temporary tattoo paper sheets with a mix of large and small metallic tattoo designs. The temporary tattoos include silver and gold styles with an eye-catching glitter finish.
Each sheet measures 6 inches by 8 inches in size. Among on the sheets are:
- Rose flowers
- Peacock feather plumes
- Star shapes
- Wings
- Henna inspired patterns
- Tribal patterns
- Much more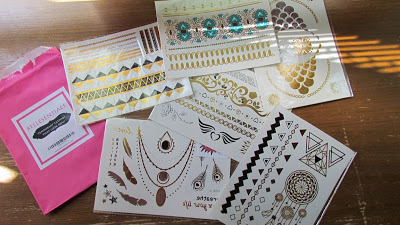 All of the designs included are tattoos that look real and tattoos women and girls love. With the large mix of sizes included in the set, you can find designs that are perfect for hand tattoos, arm tattoos, back and side tattoos, ankle tattoos and more. Only the finest of materials are used to produce our tattoos, so they're very long lasting. You can expect the tattoos for last for up to five days and remain as good as new.
With the Bellesentials Temporary Tattoos Set, getting great results from temporary tattoos is easy. The temporary tattoo paper sheets can be easily trimmed to separate the tattoo that you want to apply and application is so simple that it's practically foolproof. Just put the tattoo on your skin, wet the back with a moist sponge, wait 30 seconds and peel off the backing to reveal your sexy new tattoo! If you decide you want to take off your body art early, you can do so with ordinary nail polish remover.
Get all of the style benefits of having a real tattoo with none of the drawbacks! Treat yourself to the best temporary tattoos by ordering the Bellesentials Temporary Tattoos Set today.
REVIEW
:
My kids love putting on temporary tattoos. Having some that are pretty and geared towards women and kids is fantastic. As described above, these "tattoos that look real . . ." should be ones that look like realistic tattoos, but I must disagree. Although they are pretty, nicely designed and definitely sparkly and fun; they do not look like realistic tattoos. They still look like fake, temporary tattoos.
Look at the photos and judge for yourself if they look "real":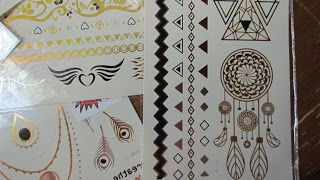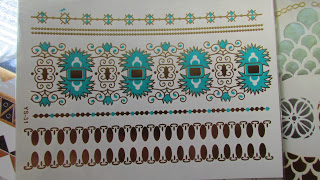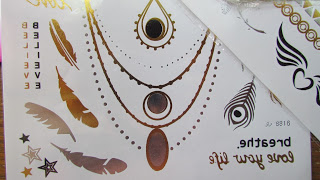 I took one before and after photo of the tattoos I put on my ankle. Please ignore all the freckles, they aren't very photogenic - lol.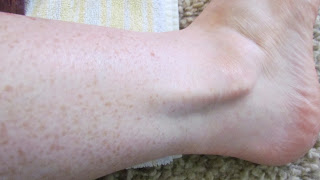 BEFORE
Wrapped around ankle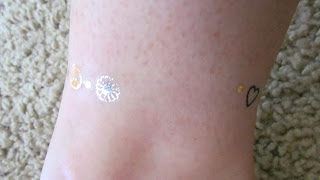 After second Tattoo
I love the cute designs and fun patterns, although the length of the designs leaves a little too much room - I would prefer one that could completely wrap my ankle but have not yet found any temporary tattoos that are long enough.
In this instance I just added a second tattoo to fill in the space left over from the single wrap. I think it turned out cute.
My girls and even my Mom got in on the Tattooing fun! Look at all that fun STYLE!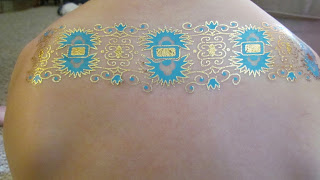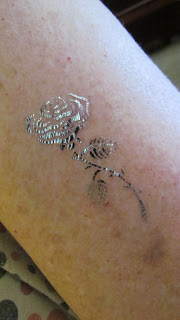 FINAL OPINION:
Fun product, similar to other temporary tattoos in how to apply and quality (a few minor issues with pieces coming off or not sticking properly). Price is a bit expensive in my opinion. I would not pay nearly $13 for these personally. I do not feel that the claim of "look like real tattoos" should be included as they do not look realistic. They do look a lot like jewelry when applied, and make a fun statement.
I did have quite a hard time removing them. After just a day or two they started to flake off, the remaining portion was very hard to get off even with nail polish remover.
Overall they are fun and we do like the unique designs and size of many of the choices!

Disclosure: I received free the item(s) mentioned in this post in exchange for my honest review through Tomoson.
Regardless ~ All my reviews are my honest and personal opinion.
I am disclosing this in accordance with the Federal Trade Commission's 16 CFR, Part 255: "Guides Concerning the Use of Endorsements and Testimonials in Advertising.".