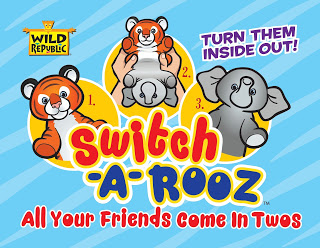 Switch-A-Rooz™ characters look just like your favorite wild animals, with realistic coloring and life-like features. Fantasy Switch-A-Rooz characters have colorful coats of fur and large glittery eyes to bring their magical qualities to life. Each realistic Switch-A-Rooz character has a unique inner strength and a
BFF
to help them take on challenges in the
Land of Rooz
Wild Republic has been delighting and educating children since 1979 with their ever-growing collection of innovative stuffed animals, toys and jewelry. The company has become a worldwide
leader in nature- and wildlife-related toys sold in zoos, museums, aquariums and leading retailers. The company's mission is education with recreation. Founded as the family-owned and operated K&M International, the Wild Republic brand has grown into an internationally recognized company.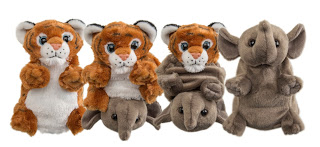 When I opened up our box from Wild Republic (we were sent 2 new fluffy friends at no cost to create this unique and honest review), my two girls were thrilled to find that there was not one but two furry friends for them to play with! I have yet to meet a child that does not love stuffed animals! Like my girls, most children have not one, not two but dozens of fluffy stuffed friends but are never satisfied unless they have MORE.
So finding that Mom received these NEW Switch-A-Rooz from Wild Republic led to negotiations between the two girls as to who would get to play with them first! They both absolutely LOVE that they not only have one fun friend but two-in-one. They are so adorable! Now the only problem we have is which girl gets to cuddle them each nigh
t!
Now, to meet our adorable new fluffy friends: Lucky & Charm: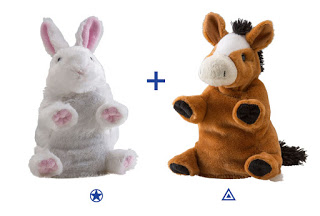 Lucky & Charm
Things always seem to go Lucky and Charm's way. These charmed characters are perfect companions in the Land of Rooz because they are constantly bringing good fortune to everyone they meet. With a little help from their BFFs,
Hugs
and
Oats
, Lucky and Charm can get out of almost any predicament in the
Land of Rooz
.

Easy to switch from Charm to Lucky, or Lucky to Charm - play with two pets in one! So fun and adorable - can even pull them out and have both showing at once (though they can't sit down - LOL).
My girls think they are super fun and unique and love to have them when we are on the go and at night to cuddle with their other stuffed lovies.
Check out this video for more info on Switch-A-Rooz and other great characters like these:
You can also find Switch-A-Rooz
with free shipping from PRIME!
Now for the FUN! Would you like to WIN a FREE Switch-A-Rooz character set?
Enter to win from July 7 - July 17th
Mandatory: leave a comment below telling me which Switch-A-Rooz friend set you would like BEST! Make sure to leave your email addy for me to contact you if you win! (use MyEmail at Yahoo dot Com format)
Bonus Entries:
* Comment below with Bonus word from weekly email/newsletter (+10)
* Comment below if you are follower on Facebook, twitter, instagram, youtube, pinterest, etc - (+1 for each way you follow)
AND THE WINNERS ARE:
Elizabeth S. (newsletter bonus word)
&
Helen B. (Instagram Follow)
Congrats to you both -
emails have been sent out so check your inbox, spam and trash! You have 48 hrs to reply and claim your prizes!

Disclosure: I received free the item(s) mentioned in this post through Tomoson
in exchange for my honest review. Regardless ~ All my reviews are my honest and personal opinion.
I am disclosing this in accordance with the Federal Trade Commission's 16 CFR, Part 255: "Guides Concerning the Use of Endorsements and Testimonials in Advertising.".