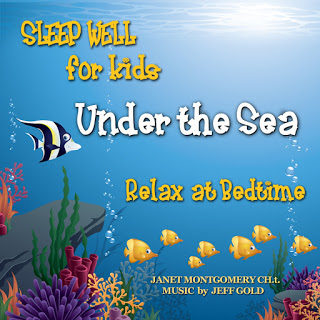 How about giving a good night's sleep to an entire family?
Our CD, "Sleep Well for Kids – Under the Sea" features soothing guided meditation and beautiful relaxing melodies. Together, they combine to create a calming, nurturing
atmosphere that is perfect for children (and parents) who have a difficult time winding things down at bedtime.
Janet Montgomery CH.t. is your guide as she takes you on a magical journey using guided imagery and visualization techniques to float you on a relaxing voyage to a special beach. You will then be guided on a leisurely tour through the tide pools before diving down under the water to play with the dolphins and learn about the abundant sea life….all the while drifting off to a deep, restorative sleep.
Children are introduced to the basics of breathing techniques, progressive relaxation for their body, and visualization for managing worry and relaxing into a restful sleep. "Sleep Well for Kids: Under the Sea" is a wonderful tool for helping children to learn the essential life-skills associated with calming down and relaxing. Parents will find they will get the rest they need too!
Review
:
Although I can see the benefit of meditation CDs for children and families, I personally did not care for this. I listened to it with my 7 yr old daughter and neither of us could relax because the voice on the CD was annoying to both of us. Now, I honestly try to give every product a chance regardless of my personal likes and dislikes so here is a list of positives and negatives I have come up with.
Positives
:
Good for mediation/yoga
Soft and relaxing background music
If you can visualize, then the ocean meditation is expressive
Great for young children
Negatives
:
Stilted words are annoying (soft and constant flow would be better IMO)
Single "song" repetitive (would prefer different music)
Long Drawn Out (took more than 40 seconds to go from "I'm going to count down from 10" to actually beginning the count)
Too much narration
Overall I can see the benefits for those who like meditation CDs, and like some of the imagery in the CD but it just wasn't right for me or my family.
*Enter to WIN - this CD! Must be 18 or older to enter/win. Open to US only. Not associated with any social media or website included in entries. ALL entries are optional!

Disclosure: I received free the item(s) mentioned in this post in exchange for my honest review.
Regardless ~ All my reviews are my honest and personal opinion.
I am disclosing this in accordance with the Federal Trade Commission's 16 CFR, Part 255: "Guides Concerning the Use of Endorsements and Testimonials in Advertising.".