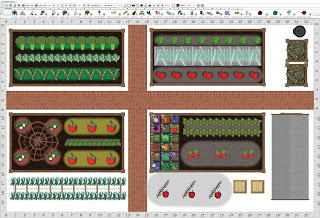 I must admit that I was skeptical about using the GrowVeg Garden Planning tool for my gardening this year, and often do not utilize organizational programs as I should. With GrowVeg I was pleasantly surprised by how easy to use it is and how much more organized my gardening has become.
The last couple of years the produce was not as good a yield as I was hoping and thought that maybe the reminders and helpful tools included with this program might help my
garden areas be better this year.

Review:
Grow veg has a lot of things going for it, but what I had to decide is whether or not it was truly worth paying $25 a year for. Keep in mind that Grow Veg does offer a
free trial for 30 days
to try the software out.
I was able to plan my garden and print out a copy of it and my plant dates for free. But I wasn't sure it worth continuing to pay for. As I continued to use it this year for the first time I'm finding that in the long run it is a great program and has great potential for the years to come. It is easy to use, has step by step guides, map and draw features for all shape and size garden areas, lots and lots of tools and features to aid in planning, planting, growning and rotating crops each year.
I must say that I will keep using this program to get the most out of my gardening and keep it easy to do, reminders of when to plant, water and feed as well as finding the best plants for each garden area each year.
From beginner to pro, GrowVeg is a great tool for any gardener regardless of experience level!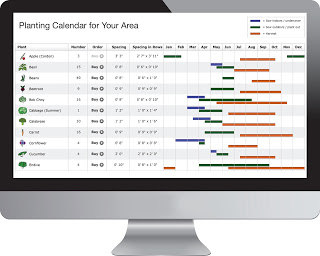 See what the experts at GrowVeg have to say about their product :
Our Garden Planner makes it easy to draw out your vegetable beds, add plants and move them around to get the perfect layout. Either metric units or feet and inches are supported and any shape of garden can be created.
Whether you use traditional row planting, raised beds or Square Foot Gardening the Garden Planner adapts to suit your gardening style.
The Garden Planner has over 200 vegetables, herbs and fruit and detailed growing information is just a click away. As you add vegetables the space they require is clearly shown by the coloured area around each plant and it calculates how many plants will fit into the area.
Crop rotation is easy as the Garden Planner warns you where you should avoid placing each vegetable based on what was in your previous years' plans.
The Garden Planner adapts to your own area using our database of over 5000 weather stations. Print your own personalised planting chart showing how many of each plant you require and when to sow, plant and harvest them.
Twice a month the Garden Planner sends email reminders of what needs planting from your garden plans.
The Garden Planner is both easy to use and flexible. Organise which crops will follow on from others using the succession planting feature and see how your garden will look for each month of the year. Customised varieties can be added with their own spacing and planting dates.
Like a garden journal, you can add notes to your plants and plans to track how they grow.
Want to try it FREE for yourself? ENTER TO WIN a 1 year subscription. Just enter by leaving me a comment about your garden(s) below! Must be 18 or older to enter/win. Contest Winner will be chosen using Random.org on Thursday July 23rd 11pm CST.

Disclosure: I received free the item(s) mentioned in this post in exchange for my honest review.
Regardless ~ All my reviews are my honest and personal opinion.
I am disclosing this in accordance with the Federal Trade Commission's 16 CFR, Part 255: "Guides Concerning the Use of Endorsements and Testimonials in Advertising.".