Discover the world's oddities at Ripley's Believe It or Not in the Wisconsin Dells. Featuring three floors with 11 amazing galleries, you will experience puzzling illusions as you examine the large eclectic collection of odd and interesting things you will never see anywhere else. Become an explorer and survive the curse of King Tut as
you travel the dark cavernous tunnels of his Egyptian temple. Continue your exploration and unveil objects hidden throughout the museum and decide for yourself if you Believe it or Not!
The Ripley's Believe It Or Not in Wisconsin Dells, WI is a great place for the whole family to enjoy together. With three floors of crazy and amazing galleries full of fun and fantastic objects and items that you will not see anywhere else. There is something for every member of the family to enjoy!

Wizard Quest is the cutting edge fusion of a story driven computer game and a 13,000 square foot magical wonderland. It is packed with secret passageways, physical obstacles, endearing illusions and over the top artistry.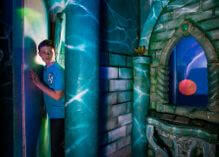 Your quest is to locate and release the imprisoned wizards. To do this you must first collect enough glimmers to release them. You collect glimmers by answering the riddles and questions of the Dragons. The answers are found in the realms…some hidden, some obvious and some not so obvious. The quadrashpere is full of secret passages, hidden entrances and some traps. Yes there is an opposition here that doesn't want you to free the Wizards. His name is Havoc, he and his minions do what they can to hinder your quest.
Downton Dells Discovery Pass - Buy our Dells Downtown Discovery Pass online where you can save more than half off the admission of your second attraction!

Disclosure: I will receive a free ticket to one or more of the event locations mentioned in this post in exchange for my honest review. Regardless ~ All my reviews are my honest and personal opinion.
I am disclosing this in accordance with the Federal Trade Commission's 16 CFR, Part 255: "Guides Concerning the Use of Endorsements and Testimonials in Advertising.".