The
much

anticipated first cookbook from Adam Richman, the irrepressible host of
Man vs Food
and NBC's
Food Fighters
, delivers what his fans have been waiting for: a heaping helping of over-the-top flavors with a side order of the erudite humor that is his trademark.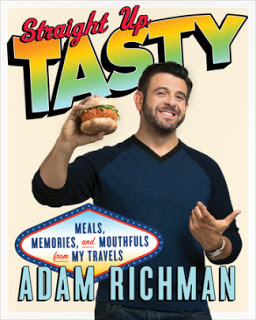 Having eaten his way from coast to coast and around the globe, Adam Richman has learned more than a little bit about what makes food taste good. He draws on all that knowledge and his lifelong dedication to seeking out memorable flavors and eating experiences in this high
octane collection of dishes that are, quite simply, straight up tasty.
The more than 100 diverse, dazzling, and downright delectable recipes reflect the flavor combinations, techniques, and ingredients Adam has encountered in his nonstop travels, all translated into easy-to-use recipes perfect for the home cook, and all given a distinctive Richman spin. But
Straight Up Tasty
is much more than a scrapbook of Adam's culinary expeditions; it offers the perfect foodie flavor bomb for every occasion from a crowd-pleasing spread for game day to a turbocharged holiday feast.
Along the way he holds forth on topics as diverse as where to encounter the nation's best burgers and why the best thing on a restaurant menu isn't always what you might think; delivers helpful advice on kitchen prep in haiku form; and recounts the history of chocolate in rhyming couplets. And did we mention Candied Bourbon Bacon? You'll find those delectable tidbits and oh so much more in
Straight Up Tasty
, a cookbook that could only have come from the passionate palate and irrepressible enthusiasm of America's ambassador of flavor, Adam Richman.
Review :
I was pleasantly surprised to find that the recipes in
Straight Up Tasty
by Adam Richman are not all filled with strange ingredients and unheard of, or unlikable ingredients. Although there are some recipes that I would not try or use all listed ingredients, there are a few that sound and look yummy enough even for my family's picky appetites.
A few that really caught my interest are
:
* Pg 28 ~ Tortilla Soup with Guacamole Wantons (not something I would have thought of making myself but sounds and looks very tasty!)
* Pg 35 ~ Creamy Tomato Soup with Grilled Cheese Sandwich Dumplings (my girls thought this sounded and looked good!)
* Pg 87 ~ Grilled Shrimp Tacos with Honeydew Sriracha Salsa (now this one I would change up a bit - the tacos are great but not so much the salsa - so I would alter the recipe a bit)
* Pg 151 ~ Spaghetti Pie (now this is funny - I actually already make a version of this that my family loves - must have stolen MY recipe - LOL)
Now, I must say that compared to other cookbooks I have reviewed this one has a photo for at least 75% of the recipes. That is a huge plus for me. I like to see what the dish is meant to look like as well as have the recipe on hand. I am personally not a fan of a cookbook or recipe without a photo, so this book does cover that qualification for me. I also expect to have recipes that are realistic for the average American family - not include half of the ingredients that must be found in specialty food stores. Overall I like this cookbook and will be fixing a few of the recipes within it for myself and my family.
You can check it out for yourself here on Amazon.com (affiliate link) *another plus: it is available for Kindle!

Disclosure: I received free the item(s) mentioned in this post in exchange for my honest review through Blogging for Books. Regardless ~ All my reviews are my honest and personal opinion.
I am disclosing this in accordance with the Federal Trade Commission's 16 CFR, Part 255: "Guides Concerning the Use of Endorsements and Testimonials in Advertising.".