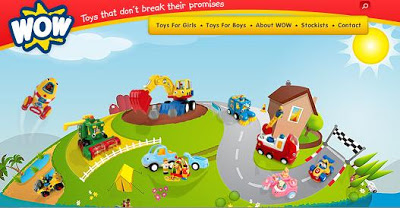 Known as: Casey
In a nutshell: A real cool dude
Likes: Surfing holidays, chilling and BBQ's
Dislikes: Stressed out dudes
Likes to hang with: All cool dudes

Hey guys who's excited about coming to join me, Casey Camper, on my cool adventures? I like to hit the surf on my regular surfing holidays and I think nothing beats a good BBQ on the beach with friends after a hard day surfing! Everyone needs to chill out and enjoy the sunshine, and that's what they do when I'm around.
I'm a motorised camper van with some fab features too! Open my roof to find my friends chilling on their bunks, take out the picnic table, match and sort luggage or even have a hop scotch competition on my groovy pull out playground!
My set includes me, my best friends, Pete and Lilly, our pet dog called Sammy, his removable dog basket, his dog bowl, a removable picnic table and two luggage items.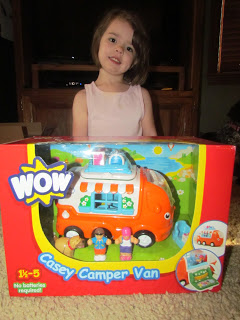 My Review:
I was given the chance to choose a preschool toy from WOW Toys for my daughter and I to review. I showed her the different toys and she chose Casey Camper Van. When Casey arrived she was so excited, she asked if it was Christmas already! lol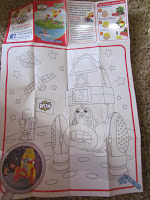 As we took all the pieces out of the box, we discovered that the package insert contains a coloring page on the back! Lydia loves to color! What a fun idea!
Instead of a boring instruction sheet, WOW Toys includes a colorful insert with great images and instructions for how to play with the toy. On the back is a fun coloring page for the child to enjoy as well as a small example of what the page can look like if fully colored (though ours did not look anything like the example - lol)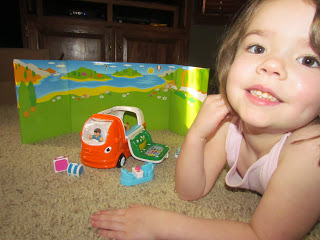 When we finally removed all the pieces from the box, we found that the background was removable as well and we decided it would make a great addition to our pretend play time. So I helped Lydia set it up and pretended that she and her Casey Camper Van were going on vacation! All of the parts are child friendly, and can all fit inside the camper for storing. When the Camper Van is on a smooth surface (it also worked on our carpet but not as fast) it can be pushed and will roll along the floor. It reminds me of some fun cars my brother had as a kid, that you "rev up" the engine by pushing the wheels several times, then let it go and it rolls/moves!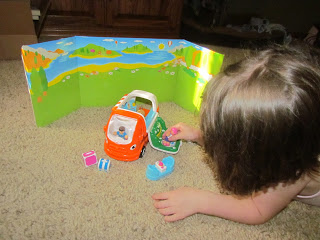 Lydia decided that the girl and boy characters that came with the van were her sister and brother going on vacation - and the cute little dog she named
Daisy
(after our dog). Lydia loves this toy and plays with it nearly every day. I have found her in the middle of the kitchen playing with Casey Camper Van, as well as in her room, her sister's room, our playroom and of course the living room with me - she loves this toy from WOW Toys and even though she is nearly 5 (Casey Camper Van is recommended for ages 18 mos to 5) - she gets hours and hours of pretend play fun with it!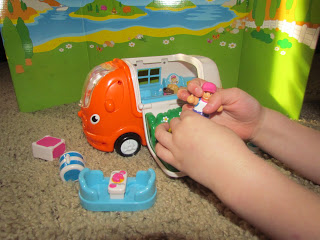 When she wants to take it to another room, or when she is done playing - all the pieces fit inside the camper and can be easily stored for future playtime! These great toys from WOW Toys are toddler-friendly! If dropped, the do not break easily (at least this one hasn't broken and it has been dropped a couple of times!) The toys are made sturdy for long-lasting play, and are made so they can be taken with the child wherever he or she goes. Lydia plans to take Casey Camper Van with her to her grandparent's house, and has even taken it in the car to play with - this toy travels well and is a great toy for little ones to play with for years and still stay in like-new condition! Highly recommended by this Mom, Reviewer and her expert toy review helper - Lydia!
You can check out Casey Camper Van and other great toys for preschoolers at WOW Toys
http://www.wowtoys.com/
One of my wonderful readers will be able to choose a fun WOW Toys product in this fun giveaway.
Winner gets to choose from
Casey Camper Van
Poppys Pony Adventure
Penny's Pooch N Ride
Pet Rescue Percy
Winner will have 48 hours to reply and claim the prize - Winner will get a choice of one of these great toys as the prize! Just enter using the form below - Open to US

I received one or more products in the post above for review purposes only. I was in no way required to write a positive review. All my reviews are my honest and personal opinion
. If you have any questions or comments, please see my FTC disclosure or Review Policy.