My daughter and I had a fun time reviewing this Rubik's Rock N Roll Maze from ToysRUs. It has lights and sounds to guide you while playing. The player has to turn the maze wheel to guide the ball into the lit-slot. There are three different levels, from Free Play to a more advanced level that my 11 year old son likes!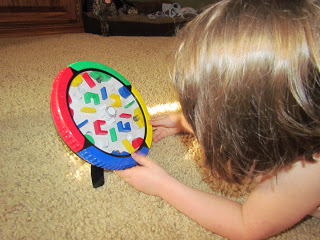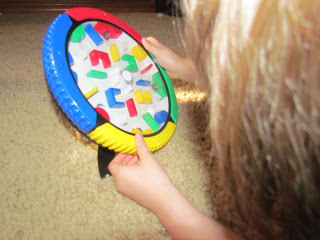 Lydia loves playing with this Rubiks Rock N Roll maze and often has to fight off her older sister and brother to keep them from playing it too. This is a great toy for toddler through child (I would say 3 years to 9 years), due to the different levels of play, and the ease of free play mode. We love this unique toy from the makers of the Rubiks Cube!
A-maze-ingly fun! Inspired by the engaging ball movement seen in games like pin ball and bagatelle, this unique game has a conical base that makes the maze so much more interesting to solve! Choose one of three different puzzle modes, then spin the unit to move the ball through the maze. Flashing lights indicate your target zone as music and sound effects add excitement.
(click on the picture to go to the ToysRUs page to purchase this fun toy)

The second toy we received from ToysRUS for this review is the Pavillion Light Up Backgammon Game
Product Description
Breathe new life into your games with powerful lighting effects. Lights build an enhanced atmosphere to create a truly surrounding gaming experience. Especially useful for those late-night gaming sessions. Play games all night long with your friends and family. Enjoy the Big Light Up game boards. High tech electronic game, unique illuminated board, and transparent light diffusing pieces for a visually stunning game experience
My 11 year old son loves to play Chess and Checkers. When he saw this game in the box, he got excited. He loves learning new games and we both enjoyed playing Backgammon in the dark, with the gameboard lit up! With the Christmas Tree lit in the background it made for a fun family game time for the both of us. I had not played backgammon since I was about his age so it took us a few tries to finally figure out how to play correctly. I can see this being one of our new favorites for our Family Game Nights in the future! He has already asked to have it as one of our feature games for our New Years Eve party this year! A great game for older kids and adults who love strategy!
For more great games like these - visit Toys R Us online or your local store!
You can also find ToysRUS on facebook and twitter

I received one or more products in the post above for review purposes only from ToysRUs. I was in no way required to write a positive review. All my reviews are my honest and personal opinion
. If you have any questions or comments, please see my FTC disclosure or Review Policy.