The SodaStream system enables consumers to carbonate water and to flavor carbonated beverages at home as an alternative to purchasing pre-packed bottles or cans. This has many important benefits to the consumer including cost savings and no hassle with bottles.








The advantages of SodaStream 's Home Carbonation System include:
Convenience: No need to carry heavy bottles from the store. The SodaStream system is simple to use and requires no batteries or electricity.
Environmentally-Friendly: SodaStream is an "Active Green" solution that minimizes the huge eco-footprint caused by the manufacture, transport and waste of plastic bottles.
Variety: SodaStream offers over 100 flavors to suit everyone's taste. Regular, diet, natural, fruity flavors, ice tea, energy drinks, sport drinks, tonic and many more.
Space Saver: No need to store bottles of beverages or empty bottles for recycling in your home.
Personalization: Make drinks just the way you love them… more bubbles, less bubbles, sweeter or lighter, even create your own flavor!
Family Fun: The system is quick and easy to use. It's fun for everyone and kids just love it!
Value for Money: Great savings compared to pre-packed carbonated water and beverages.
Satisfaction Guaranteed: SodaStream drinks makers are of extremely high quality and include a money-back satisfaction guarantee.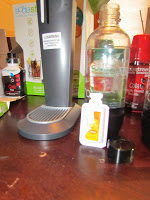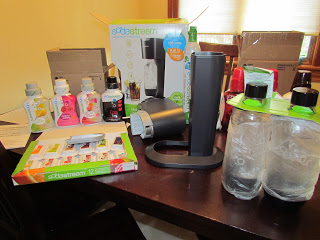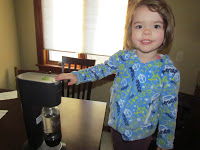 My Review
:
I was not sure what to expect when my SodaStream arrived. I was given the Soda Starter Kit along with some extra flavors to try and an extra bottle for soda. My kids were even more excited than I was to try it out and immediately began making flavor choices. I read through the directions and they seemed simple enough, so we started with one of the sample flavors - Fountain Mist (yes, I know - Mt Dew is my favorite, not my kids' choice, but hey, this is MY review too

)
I was surprised with how similar it tastes to Mt Dew - a bit sweeter, but a bit milder too. I found that I liked the flavor pretty well, and could most likely get used to it quickly as an alternative to my favorite carbonated

beverage.
I decided that since we had 2 bottles that I would let one of the kids pick another flavor to try - they chose Orange. Again we were all pleasantly surprised with how good it tastes. I must say, I liked the orange ok, it has a bit more of a citrisy flavor than the store bought Orange type soda that I've previously drank, but my kids and husband all liked the

SodaStream Orange better than the other brand.
We have since tried: Dr.

Pete (a big hit with all), Diet Lemon Lime (my son thinks it tastes "just like regular Sprite"

), Root Beer (kids love it, me not so much) and Cola (we all enjoyed this one, even my hu

sband who is not a soda fan).
My family has since bought much less soda from the store and have been using the SodaStream flavors instead most of the time. I even found out that one of our local stores trades and sells the Carbonators, and also sells many of our favorite flavors so we won't even have to order online, but can buy local for all our SodaStream needs. I love how compact and sleak my SodaStream is and how it doesn't take up much counter space. It is easy enough for even kids

to use.
*

There are many different flavors of Sodas, Diet Sodas, Lemonades, Teas, Energy Drinks and Sparkling Water flavors to choose from. Check out the links below for more great info and answers to any questions you ma

y have.
SodaStream Links:
website: http://www.sodastreamusa.com
facebook: http://www.facebook.com/SodaStream
twitter: http://twitter.com/sodastreamusa
youtube: http://www.youtube.com/user/SodaStreamGuru

I received one or more books or products in the post above for review purposes only. I was in no way required to write a positive review. All my reviews are my honest and personal opinion
. If you have any questions or comments, please see my FTC disclosure or Review Policy.