From the website:
Personalized Children's Books help your kids learn to read all while making it fun. A child's imagination is one of the most important ways they learn and grow. Personalized Books are a great way to help enhance a toddlers or young child's imagination, by making them the star in their very own storybook.
Our Personalized Kids Books use the child's name, hometown, age and much more to create an exciting reading experience where your child has the leading role in their own adventure. Whether being the star in their very own circus to helping Elmo learn to count, there are many adventures your child can star in. A customized dedication is also included to make this a truly special gift that the child can cherish for years to come.
My Review
:
I was given the chance to choose and personalize one of the books from My FairyTale Books website for this review. I choose to use my youngest, Lydia for the personalization and add in her siblings names as other characters in the book.
When the book arrived I was amazed at how fun the story was - it didn't seem like one of those "cut and paste" type books where you add a little generic information and it is obvious where your or anyone's info fits in the short story. This book was a well thought out, and well written children's story with areas where your child and her friends are inserted into the action and become a key part of the story itself.
I choose to use a Fantasy Book - and choose the story "Beauty and the Beast" but don't think this is the "Disney" version - it is not. It is a unique story all it's own. Yes, there is the Beast, and a Beauty who eventually tames him, but Lydia (or your child) is a key part of the story and helps the story turn out right so Beauty and her Beast can have their happy ending.
When we began reading the story and Lydia's name showed up for the first time -she gasped and said "that's ME in the story!" She was so excited to hear her name. Then as we read along and her sibling's names were in there too - her eyes lit up. She asked my son when he came home from school to read it to her again. He read it to her 4 more times before she finally sat alone "reading" it for quite a while after that.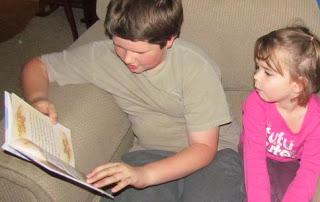 There are more than just Fairy Tale books availalbe at My FairyTale Books website - there are adventure, baby, birthday, educational, Super Heros, Holidays, Sports and more. There are also personalized CD's, DVD's, and Gift sets as well. This would make a great surprise gift for a special little someone to cherish for the rest of his or her life.
From now until December 13th - any reader who purchases a book from My FairyTale Books can use the following code to get 10

%

off
Code: BLOGGER2012
Go to www.myfairytalebooks.com to order your Personlized Gift today - don't forget to use the discount code!

I received one or more books or products in the post above for review purposes only. I was in no way required to write a positive review. All my reviews are my honest and personal opinion
. If you have any questions or comments, please see my FTC disclosure or Review Policy.