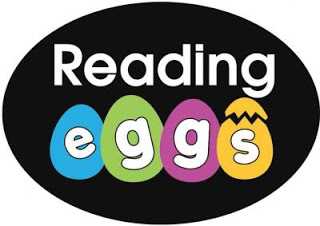 Finally a great website to help kids learn to read in a fun and unusual way with Reading Eggs! That's right - Eggs - and NO, these Eggs are not only for Easter!
**Introducing ~ Reading Eggs**
The Reading Eggs program was developed by teachers, animators, web developers and educational writers who are experienced in creating educational curriculum for children. Reading Egg helps build the core reading skills and strategies that are important for reading succ

ess.
Reading
Eggs is a great program that

helps children

ages 3 to 12 learn reading, phonics and more. It is a great online early education resour

ce,
and since
it's beginning in 2011 in the US and Canada, Reading Eggs has more than 500,000 subcribers (no credit card r

equired)

.

The Reading Eggs Learning Process
This powerful educational program is based on the most up-to-date research on how children learn to read.

The lessons use animation, activities and reward games to keep children motivated.

The program is completely interactive to keep children on task.

Children want to come back because they are having fun as they learn.

When children start the program, they can complete a placement quiz to ensure they are starting at the correct reading level.
This combination of high-quality learning activities, motivation and rewards makes Reading Eggs an unbeatable learning package.
1 Learn skills
Children complete animated online lessons where they learn essential reading skills. The variety of fun activities within each lesson provides the repetition needed for these skills to become part of the child's long term memory.
2 Read books
Children gain confidence by reading books online that only contain words they have already studied in the program. For further reinforcement, they can also read the real books at home if they have the Reading Eggs book packs.
3 Earn rewards
Children earn golden eggs as rewards for work completed. They can use these eggs to buy reward games.
4 Quiz
After 10 lessons, children complete a Mastery Quiz. This provides you with a report of what your child is learning. Children can repeat the online lessons as many times as they like. Young children enjoy repetition and it has great benefits too, as it helps them to learn.
It truly is a wonderful experience to watch a child learn a new skill. And when that skill is as important as learning to read, you'll love being part of that experience. We wish you much enjoyment in the journey you're about to begin with your child.

My Review :
My daughter and I have been trying Reading Eggs website for a few weeks now and she absolutely loves it. Lydia is only 4 1/2 years old and can not yet read. She can do up to level 11 so far with very little help. She loves the games and characters that help her learn letter sounds, word matching, and other great pre-reading games. The only thing she does not like is that there seems to be a few short games that can be played while waiting for new pages or levels to load, but the site loads so quickly we never get a chance to play any of those "waiting games." But I mus

t say that is not a very good complaint.
Reading Eggs has many different features that are user friendly for both kids and parents. We love how easy it is to use, the great animations, characters, games, and more. For every level she completes a new level unlocks with exciting games and fun with letters, words, vocab

ulary and more.
There is even a Reading Express for kids ages 7 and up to help them wi
th reading comprehension, retention and so much more. Reading Eggs is a great website for kids of all ages, and now they have added even more great features! Reading Eggs now has several great A

pps

for on the go learning . . .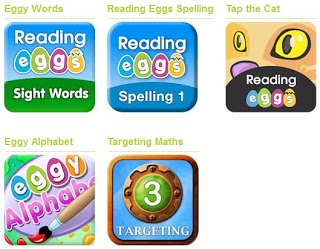 Their newest App "Tap the Cat" is a fun resource for iPad users and is a great deal at only $2.99 - Other Apps like Reading Eggs Site Words are also available for Android Tablets and is a FREE App. Since I do not own an iPad I was unable to download these Apps, but believe me - If I ever find out how to get them on my Kindle Fire, I most certainly will! My daughter and I love Reading Eggs and plan to continue using it as long as we can!
~ If you are interested in trying Reading Eggs for FREE for two weeks CLICK HERE to start your free trial!

I received a free trial of this website

mentioned
in the post above for review purposes only. I was in no way required to write a positive review. All my reviews are my honest and personal opinion
. If you have any questions or comments, please see my FTC disclosure or Review Policy.