XenonProject.com is a toy and hobby company that is dedicated to delivering a wide range of quality remote control products to you – the RC toy enthusiast.
I was offered a chance to review one of XenonProject.com 's Remote Controlled Helicopters. I had a choice of one of several, so of course I had my 11 year old son take his pick. He chose the same one I would have chosen . . .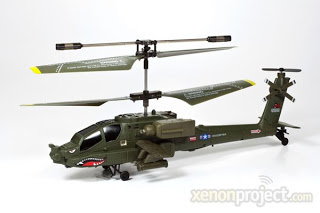 3 Channel Mini Gyro Helicopter by

Syma
Currently on Sale for only $29.99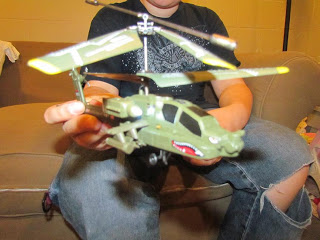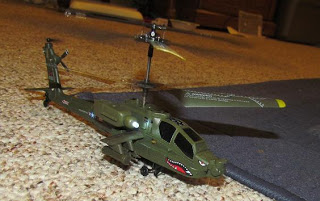 My Review:
My son Josh was given his first Remote Control Helicopter for his birthday from a friend of his. It took him a couple of days playing with it to figure out how to fly it without crashing it into everything. It was very tricky to get that

helicopter to go where he wanted it to, when he wanted it to - and it could not be outside with any kind of breeze or it would not work right.
When

the
S109G Mini Gyro arrived, I expected it to be much the same as that "other" helicopter. But I was very wrong. From the moment we took it out of the box it was much nicer. For one, it has lights on the front of it - very cool. For two the details are amazing and Josh and I both love how it looks. Then, as soon as it was charged up, he had it in the air flying it all around with no trouble at all! It is very easy to control and very easy to figure out right away. He had that helicopter flying forwards, backwards, around objects, up and down and even hovering in mid-air! All within moments of touching

it for the first time!
All I can say is it was love at first flight! If I hadn't already bought his Christmas Gifts for this year, I would definitely be tempted to buy him another helicopter from XenonProject.com - or maybe even a Remote Control Dune Buggy Racer or Monster Truck! But I will tell you this, though I can't get him one for Christmas, it will definitely be FIRST on my list for his Birthday this year! And for any boy birthday parties he's invited to - what a cool gift idea, and so muc

h fun too!
*Still looking for gifts for that boy (or big boy) in your life? XenonProject.com has more than just Remote Control RC Helicopters - they also have Die Cast Models, Remote Control Cars, Trucks, Boats, Planes, Helicopters, Buggies, Tanks and MORE

. . .
So check them out to see what they have th

at might fit perfectly on YOUR Christmas List!

I received one or more books or products in the post above for review purposes only. I was in no way required to write a positive review. All my reviews are my honest and personal opinion
. If you have any questions or comments, please see my FTC disclosure or Review Policy.