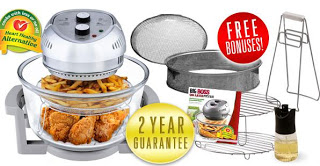 I have a great review for you today! The Big Boss Fryer: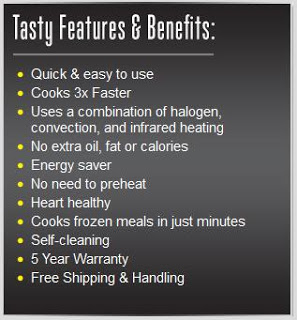 For my review I tried out 2 completely different foods in this Oil-less fryer. I do not usually cook meat from frozen, and was quite interested to see what would happen if I tried it using this great kitchen gadget. I took a package of boneless pork loin chops (unfortunately they were stuck together and I could not separate them - so they took much longer to cook than the recipe suggested).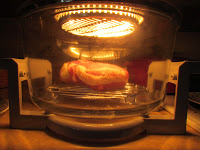 After about 35 minutes (and a few times of trying to pry them apart before they thawed enough to separate) My pork Loin chops were done - and they actually taste quite good! I added a little seasoning once they were separated. This is a much quicker way to cook from frozen - compared to thawing in the fridge or microwave prior to cooking.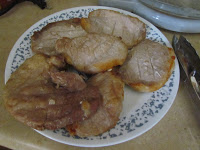 The second recipe I tried was for homemade Potato Chips. My son and I washed, skinned and sliced 2 large potatoes. Then followed the recipe instructions,
and placed them in a thin layer to "fry"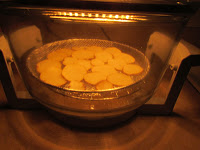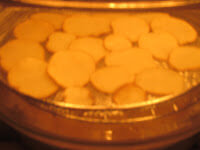 The potato chips came out nice a crispy on the outside, but tender on the inside. I did flip them over half way through cooking, and also rearranged them so they were not in the same spot - I noticed that some of them got brown before others and mixing them up and flipping helped the rest of the batches turn out more evenly cooked. The kids loved them - and they were much healthier than frying in oil! In my opinion they tasted better too.
The only negatives I can think of for this product are:
* Not great for cooking for larger families as the cooking surface/area is for small batches - For the potato chips it took 5 batches (each cooked for approx 15 mins) to get enough for our whole family to have a small amount with our meal.
* Takes up a lot of counter space.
* The whole unit gets very hot.
The positives - in my opinion :
* Great for couples or small families.
* Great for apartments or for summer cooking when you don't want to heat the whole house with an oven.
* Much healthier way to fry than drowning food in oil.
* Cooks quickly and nicely - foods taste good!
* Lots of great recipes to try
* Easy to clean - even has a self-cleaning feature!
* When the lid is lifted off, the burner/light shut off - (for turning food) - then turns back on when placed back on.
Although I do like this Big Boss Fryer - and do plan to use it from time to time, I will mostly use it for smaller meals or fun snacks (like potato chips, onion rings) or for those nights when I forget to thaw something for dinner. For it to truly work for my hungry family of 5, I would need 2 of these to feed us all at the same time. I plan to keep trying out new recipes - I am curious to see how it would cook a roast with potatoes, onions, carrots and mushrooms? Yum!

I received a free products in the post above for review purposes only. I was in no way required to write a positive review. All my reviews are my honest and personal opinion
. If you have any questions or comments, please see my FTC disclosure or Review Policy.