Our sweet Daisy Mae was out hunting as she loves so much, and those silly birds were hiding behind a bush apparently. Determined as ever to get those bird for her "daddy" she stuck her head into that bush to flush them out, only to find her poor ear caught. Of course, being a good hunting dog, she pulled her ear out so she could keep hunting. Unfortunately her poor ear was torn right over a vein and bled like crazy.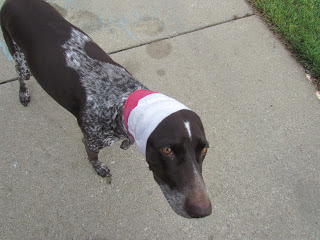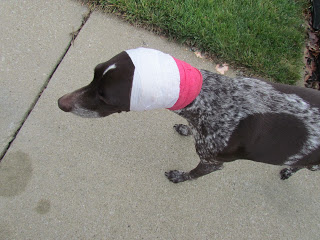 After 4 trips to the Vet and lots of bandage and tape - she is finally healing well. But what an ordeal! This was our first real "problem" since we adopted our little Daisy in August of 2011. Now our poor little girl is "ear shy" - she does not like anyone touching her ears - she fears we will take her to the Vet or pull her fur off removing bandage tape.
But no matter what she has gone through she is never happier than when she is hunting!