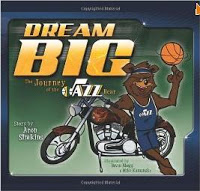 Dream Big: The Journey of the Jazz Bear
by Aron Simkins
This simple bear has a big dream.
But when everyone makes fun of him, will he have the courage to pursue it?
Join the Jazz Bear as he leaves his humble mountain cave in hopes of becoming the mascot for Utah's NBA Jazz team. Colorful pictures and an inspiring story line make this a book the whole family can enjoy.
My Rev
iew :
Dream Big is a fun story for young kids that tells about a young bear who wants to grow up to make people laugh and cheer. He wanted to do something besides hibernate, but all his friends laughed at him. When he tells his parents about his dream, his dad encourages him by telling him it is his decision

.
This book encourages kids to dream big and try hard to become whatever they want to be when they grow up. It has a great message for little ones. The illustrations are cute, and even though I personally thought it could have been worded better at times, my

two youngest seemed to enjoy having it read to them.
This hardcover book would make a great gift for young boys who like to d

ream big. The sports theme also makes it more geared towards young boys.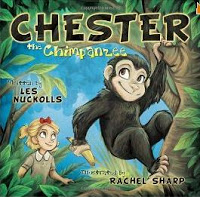 Chester the Cimpanzee
by Les N

uckolls
Get ready to monkey around!
This beautifully illustrated hardback book tells the true tale of Chester the Chimpanzee and his human sisters growing up together.
Whether they're playing dress-up or having food fights, you'll find plenty to laugh about in this entertaining story.
Full of bright colors and lots of silliness, this is a perfect read-aloud book for preschoolers and beginning readers.
My Rev
iew :
Get ready to monkey around! This adorable book is the story of Chester, a chimpanzee who grew up with a human family. The children of the family become his "sisters" and teach him all kinds of fun and silly "human" things like dressing up in Mom and Dad's clothes, or throwing food at the table.
The story has wonderfully illustrated pictures on each page. The story itself is well-written and so much fun to read. At the end of the book I found out that the story is based on what really happened when one family took in a baby chimpanzee for two years.
My girls both absolutely love this book. They have read it several times and it still remains a favorite of my youngest when grandpa comes over to read to her. This is a wonderful book for young children and would make a great addition to any personal or school library.

I received one or more books in the post above for review purposes only

through Cedar Fort Publishing

. I was in no way required to write a positive review. All my reviews are my honest and personal opinion
. If you have any questions or comments, please see my FTC disclosure or Review Policy.