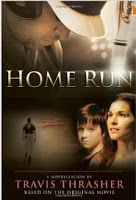 Baseball star Cory Brand knows how to win. But off the field, he's spiraling out of control. Haunted by old wounds and regrets, his future seems as hopeless as his past.
Until one moment—one mistake—changes everything. To save his career, Cory must go back to the town where it all began. His plan is simple: coach the local baseball team, complete a recovery program, and get out as fast as possible. Instead, he runs headfirst into memories he can't escape ... and the love he left behind.
Faced with a second chance he never expected, Cory embarks on a journey of faith, transformation and redemption. And along the way, he discovers a powerful truth: no one is beyond the healing of God.
A novel based on the major motion picture starring Vivica A. Fox and Scott Elrod,
Home Run
is an inspirational story of the hope and freedom God offers each of us.
Home Run is a story of pain, tragedy, suffering, loss, healing, forgiveness and acceptance. The main character, Cory Brand is a baseball star. His life is spiraling out of control with addictions he can't control and he finds himself flashing back to memories of abuse from his childhood. His journey of pain and loss lead him to eventually accepting Christ as his Savior and finding the healing and forgiveness he had been searching for.
The novel is well written and flows well. It is easy to read and easy for the reader to get caught up in the story and the character's emotions. This story has references to salvation through Christ, and shows the healing process that can occur when a person turns from a destructive path and addiction and accepts the forgiveness and help God offers. Those who love baseball will enjoy this book for the sports side, and those who love a good fiction read will most likely enjoy the characters and plot.
Overall I found Home Run to be a pretty good book, and I also think the movie will be a great one to watch - Home Run comes out in theaters April 19th.

I personally recommend
Home
Ru
n

for readers

ages 1

6

and up.
**A copy of this book will be given away during my Welcome Spring Giveaway Hop 4/1 - 4/16 - Enter for your chance to WI

N this book.
About the Author
Travis Thrasher
is the author of more than a dozen works of fiction, including The Solitary Tales series, Isolation, and Ghostwriter. His writing is known for its honesty, depth, and surprising twists. Thrasher lives with his wife and daughters in Chicago.

I received one or more books or products in the post above for review purposes only. I was in no way required to write a positive review. All my reviews are my honest and personal opinion
. If you have any questions or comments, please see my FTC disclosure or Review Policy.