Product Details:
Ages: 2 & up.
Page Count: 192
Released: 02/2013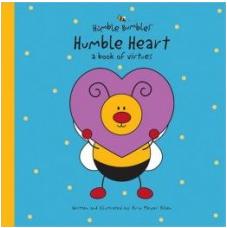 Humble Heart: A Book of Virtues collects nine delightful stories from illustrator and author Amy Meyer Allen, based on her popular Humble Bumbles characters. Through the tales of Humble Honeybee, Percy Pig, Lydia Lamb, Barnabus Bunny and their friends, children will learn virtues such as thoughtfulness, forgiveness, thankfulness and humility.

Allen's unique art style features bold and bright illustrations that young children will love. Each story ends with a memorable Scripture verse from the New Living Translation (NLT), making this a wonderful book for parents and children to read and discuss together.
My Review
:
This fun book has 9 different stories that teach young ones important virtues that most parents want their kids to learn and emulate as they grow. Each of these virtues: humility, love, thoughtfulness, faithfulness, mercy, encouragement, comfort, courage and joy; are important for children to learn from a young age.
Humble Heart by Amy Meyer Allen
teaches these virtues in a fun to read, and exciting way that youngsters will enjoy listening to over and over again.
In my family, we try to focus on these and other virtues everyday. Teaching my children from birth to have a humble heart, positive attitude, submission to God, parents and teachers, as well as many other Christian values is an important part of their spiritual and emotional health. I love how author
Amy Meyer Allen
has taken these key issues and made them into a book that is fun and easy to read and understand.
What an adorable way to teach young ones about virtues and scripture! With amazing illustrations, fun and fanciful stories, and delightful characters,
Humble Heart
is a book that many parents would love to have on their child's bookshelf! Each individual story starts with the definition of the virtue the story is about, then finishes with an application page with questions to help the child/reader think of how to apply the virtue in their life, as well as a scripture verse associated with that story's virtue.
I definitely recommend this book for children ages 0 to 8. My girls are 5 and 8 and both really enjoyed this book. My son is almost 12 and though he feels the book is too young for him, he doesn't mind reading it to his youngest sibling when asked.
You can find
Humble Heart by Amy Meyer Allen
at these and other retailers:
Tyndale
Christian Book
Amazon

I received one or more books or products in the post above for review purposes only through Tyndale Blog N

etwork

. I was in no way required to write a positive review. All my reviews are my honest and personal opinion
. If you have any questions or comments, please see my FTC disclosure or Review Policy.